27 August 2010
|
General News
NGO embarks on projects to rescue children from Volta Lake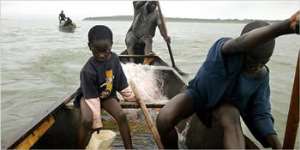 Rescue Foundation Ghana, a child advocacy non-governmental organisation, has embarked on projects to rescue, rehabilitate and reintegrate trafficked children from the Volta Lake to their families and communities.
Mrs Sylvia Hinson-Ekong, the Director of the NGO, said this at separate workshops for communities in the Effutu Municipality and the Awutu-Senya District to mainstream their community development plans into the two assemblies' Medium Term Development plans.
She said the NGO was working to prevent trafficking and also ensure that children are properly cared for and educated.
Mrs Hinson-Ekong said the NGO was using several interventions to achieve its goals and these include training community volunteers, community leaders, training of peer educators, sensitization and awareness raising, identification of children who have been trafficked before and those who are at risk of being trafficked for support and enrolment in school and other trades.
She said the NGO had established a library at Gyahadze and equipped it with some computers but due to lack of electricity the computers were not being used.
Mrs Hinson-Ekong said since poverty was the most critical factor in the trafficking of children they had linked the trafficking project with poverty alleviation, food security and gender project.
She said the NGO has established a cassava processing factory at Gyahadze which serves four communities to process their cassava into gari.
In Effutu Nsuekyir the NGO has also established a equipment that helps the women to process their farm produce into tomato puree, pepper puree and groundnut paste.
She said the NGO has formed the women into cooperative groups called "Yen Sorm" with branches in eight communities skills training and entrepreneurial skill are given them free of charge.