NDC Boycott Yielded Results – Majority Leader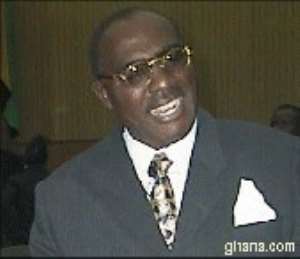 The Leadership of Parliament has promised to protect, promote and ensure the growth of democracy through good governance. The leaders of the Majority and Minority made these remarks to mark the end of the Second Session of the Third Parliament of the Fourth Republic at Parliament House on Friday.
Majority Leader, Papa Owusu-Ankomah, described the session as very outstanding and proactive even in the midst of the boycott by the Minority to press home their oversight responsibilities.
He said the boycott of the sittings eventually resulted in the withdrawal of the International Financial Consortium loan, which was a landmark and demonstrated the importance of Parliament in ensuring good governance.
Papa Owusu-Ankomah, however, said it was necessary that both sides settled issues in the House instead of resorting to the Media, which in the end does not allow for the effective performance of their duties.
He expressed his appreciation for the commitment of members and the respect for each other's views, which enhanced consensus building.
Papa Owusu-Ankomah commended the President for inviting the leadership of the House to discuss national issues describing it as a show of true statesmanship.
Minority Leader, Alban Bagbin for his part said they were committed in ensuring the promotion and growth of democracy and indicated that they would continue to do whatever was within their means to protect the hard won democracy enjoyed in the House.
He said it was in this light that the Minority sought to conduct business of the House with optimum seriousness and the attention needed to secure their oversight responsibilities effectively. Mr Bagbin said constitutional democracy was a difficult system because of its reliance on deliberations and its positive utilisation of dissent and opposition.
He said it was in this light that certain actions were embarked upon by the minority with the aim of deepening democracy in the country.
Mr Bagbin appealed to people involved in land, religious and ethnic conflicts particularly the Dagbon crisis to use negotiations rather than force in settling their differences.
He commended the media for their role in ensuring efficient and effective governance and the growth of democracy.
The Speaker, Peter Ala Adjetey, thanked both sides of the House for their co-operation in the discharge of their responsibilities and for the effective performance of Parliament.
He said it was important for all members to attend sittings and make an impact. He stressed the need for the leadership to hold consultations on consensus building and to take decisions that would ensure the socio-economic development of the country.
Mr Ala Adjetey lauded the meeting between the President and the Leadership of the House and urged the Executive to continue holding such meetings.