AMA Closes Banks And Demands Operating Permit Fees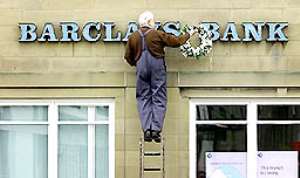 Banking activities at the High Street branches of Standard Chartered Bank and Barclays Bank were disrupted for at least two hours on Tuesday morning following their closure by the Accra Metropolitan Assembly (AMA) for not paying their business operating permit fees for the year 2002. Personnel from the Police and the AMA Task Force prevented customers from doing business with the banks. Angry customers who did not know what was going on expressed their displeasure at the inconvenience being caused them by the banks. The action of AMA was part of measures to collect business permit fees from defaulting organisations in the city. The Public Relations Officer of AMA, Mr Charles Parker-Allotey told the reporters that the banks have ignored warning letters asking them to pay the fees. He said "The banks have ignored all the warning letters we sent hence our action". However the banks were opened for business just before 1100 after Mr Parker-Allotey said they have fulfilled their obligations to AMA. The AMA has increased the business operating permit fees for the banks from 27 million cedis to 140 million cedis.
The Managing Director of Stanchart, Mr Ebenezer Essoka described the action of the AMA as "irresponsible". Stanchart showed reporters a letter, which said that at the 89th General Council Meeting of the Association of Bankers held in October this year, the General Council was informed that the AMA had agreed in principle to freeze their 2002 business operations permit fees. The AMA also agreed to write to the banks to pay the same fees as gazetted in 2001. Mr Essoka said preventing the customers from doing business with the banks is therefore surprising.
A source close to the bank said they received a letter from the AMA about the increase only about seven working days ago.