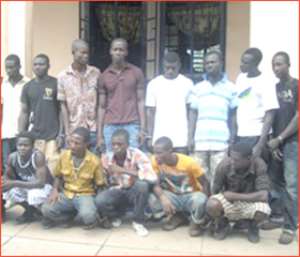 The arrested stowaways
TWENTY-ONE young men who tried to stow away in a Holland-bound vessel, MS Magdalena, at the Takoradi Port, have been arrested by the Western Regional Police Command.
The people were arrested last Friday when the crew, which was at the Takoradi Port to load cocoa beans for export to Holland, decided to mount a routine search in the vessel after it had sailed some few miles away from the port's anchorage.
The alleged stowaways, whose ages range between 15 and 27 years, were handed over to the security at the port who in turn reported the case to the police and later handed them over.
They stowaways are Edmond Bossman, 20; Dominic Kwaku, 26; Anyass Abdulai, 30; Charles Kobina, 16; Issa Bebirini, 18; Anim Mensah, 25; Abdullai Mohammed, 19; Abu Samba, 21; Christopher Botsie, 25; Ennin Amos, 22 and Kadir Mustapha, 21.
The rest are Francis Essuman, 18; Samuel Aidoo, 20; Ebenezer Dadzie, 21; Samuel High, 17; Collins Mnesah, 27; Emmanuel Ocran, 20; Mark Ashford, 27; Simon Agu, 21; Kofi Mensah, 15 and John Efirim, 18.
Briefing the press at Sekondi yesterday, DCOP Hamidu Mahama, Western Regional Police Commander, said the ship berthed at the Takoradi Port from 13th to 23rd July 2010, to carry cocoa beans from the port to Holland.
He said the 21 young men who were arrested were part of those who carried the sacks of cocoa beans from a warehouse at the port to the ship.
He mentioned that the alleged 21 stowaways would soon be processed for court on the charge of attempt to stowaway.
DCOP Mahama advised the youth in the country to endeavour to acquire employable skills to become useful citizens of Ghana and stop the act of always wanting to swindle foreigners who come to Ghana to do genuine business.
He added, "The vessel and its crew were at the Takoradi Port to do genuine business but these 21 young men decided to take advantage of the opportunity offered them to carry cocoa to the ship to stowaway."
According to him, the economic condition of the country at the moment was better than what prevailed some years ago and that it was up to the youth of today to be serious by taking their education seriously or learning a trade to be able to fend for themselves in future.
In a related development, the regional police command has denied allegation in a section of the media that some Chinese nationals were still undertaking illegal small-scale mining in River Ankobra in the Nzema area of the Western Region.
According to the regional commander of police, when the report got to his outfit about two weeks ago, an operation was mounted with the help of some staff of the Environmental Protection Agency (EPA) to arrest the manufacturers of the various machines used in illegal mining in the river and other water bodies.
From Emmanuel Opoku, Sekondi