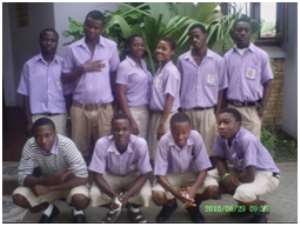 A Nokia/Junior Achievement Ghana Initiative to help build entrepreneurial partnership between schools in Africa, Europe and Unites States of America.
Accra, Ghana – Junior Achievement (JA) of Ghana, in partnership with Nokia, is delivering a cross-border international entrepreneurship program with students in senior high schools. The Program selected for this partnership is the Enterprise without Borders.
Junior Achievement Ghana is part of only two countries selected in Africa for the program due to its significant contribution to the growth and impact of entrepreneurship education for young people.
The purpose of the Enterprise without Borders (EwB) is to give students running mini-companies the opportunity to create cross-border international partnerships as part of their JA-YE experience. Through a website, teachers and schools will register for participation and students can upload their company profiles and enter an entrepreneurial 'dating game'. The aim is for students to share learning and business ideas; have the opportunity to sell each other's products in other markets; possibly reduce costs by sourcing components in other countries and also encouraging visits between markets.
Through the portal, participating students can search for partners to communicate and trade with, also acting as a web-shop. Participating students are able to create their own product and service catalogues on-line.
"Nokia is very excited to be part of this program," says Kulsoom Ally, Head of Corporate Social Investment for Middle East Africa. "Our CSI approach is to use mobile technology to improve education and learning. This includes life skills and youth development to which this program aligns perfectly".
Nokia will further be involved with the program through its employees who are able to volunteer to serve as mentors for the students. The goal for 2010 is to impact more than 200 students with the support and mentorship of employees of Nokia.
Twelve schools from five regions (Central, Greater Accra, Eastern, Volta and Upper East) have already registered on the portal and displayed their products and services. The participating schools have also begun possible joint-venture negotiations with their counterparts in Europe and United States.
"We are confident that this programme will be another success and expect that by the end of the program participating students from across Ghana will have gained invaluable business experience, new contacts and practical skills for building successful businesses in the future" says Mr Jefferson Agbai, Country Representative for Junior Achievement Ghana, "It is through the generous support of businesses like Nokia that we can have an impact on students in our community."
List of participating Schools in JA/Nokia Enterprise without Borders
Greater Accra
• SOS International College, Tema
• Holy Trinity SHS, Jamestown (High Street)
• Accra Academy, Bubuashie
• Faith Christian Academy Vocational Institute,Abelenkpe
Eastern Region
• Pope John's Secondary School, Koforidua
Volta Region
• Keta Secondary School, Keta
Central Region
• Mfantsipim SHS, Cape Coast
• Mfantsiman Girls, Cape Cost
• Aggrey Memorial Zion SHS, Cape Coast
• St. Augustine's College, Cape Coast
• Adisadel College, Cape Coast
Upper East Region
• Zuarungu Senior High School ,Bolgatanga
About Junior Achievement® (JA)
Junior Achievement is the world's largest organization dedicated to inspiring and preparing young people to succeed in a global economy. Through a dedicated volunteer network, Junior Achievement provides in-school and after-school programs for students which focus on three key content areas: work readiness, entrepreneurship, and financial literacy. Today, 137 individual area operations reach more than four million students in the United States, with an additional five million students served by operations in 123 other countries worldwide. For more information, visit www.ja.org.
About Nokia
At Nokia, we are committed to connecting people. We combine advanced technology with personalized services that enable people to stay close to what matters to them. Every day, more than 1.2 billion people connect to one another with a Nokia device – from mobile phones to advanced smartphones and high-performance mobile computers. Today, Nokia is integrating its devices with innovative services through Ovi (www.ovi.com), including music, maps, apps, email and more. Nokia's NAVTEQ is a leader in comprehensive digital mapping and navigation services, while Nokia Siemens Networks provides equipment, services and solutions for communications networks globally.