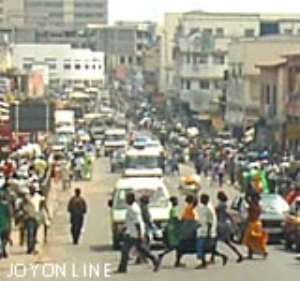 The largest fresh produce market in Africa is looking at Ghana as a better corridor to export fresh farm produce to the European market.
The Joburg Market is currently seeking partnerships with the Makola market in Accra and other businesses in Ghana to carry through the venture.
The wholly owned entity of the City of Johannesburg in South Africa sells fresh vegetables and fruits in access of one million tonnes per annum.
Marketing Manager of the company, Thomas Mawasha is hopeful negotiations with the Ghanaian partners should be concluded within the next twelve months for the venture to take off.
He tells Luv Fm's Kofi Adu Domfeh the partnership would be mutually beneficial to both countries. "Given the location of Ghana in the world map that they are more closer to Europe, if obviously we're to create partnership with the Makola, it will enable us to access the European market far much easier, quicker and even cheaper ways", Mr. Mawasha observed, adding that "we're not going into this partnership with the know-it-all attitude.
"They know the terrain in Europe probably far better than us because they've got preferential treatment in Europe and therefore we'll be taking advantage of that to make sure that ultimately, the two countries benefit".
Mr. Mawasha also expects the venture to lead to an upscale of vegetable and fruit production in Ghana. He noted "almost two years ago we saw a huge food shortage in the world and Africa was not able to take advantage of that particular shortage because agriculture is not that developed in the continent.
"We believe that using the little experience that we have in terms of commercial farming in the country, in terms of what we're able to produce here and compared to the experience the farmers have in Ghana, we should be able to start supplying the European market".
Other engagements under the Joburg-Makola market deal would see West African businesses exporting farm produce like cassava and plantain to Southern African markets.
Story by Kofi Adu Domfeh