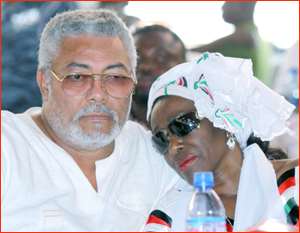 ·Nana Konadu resting on Rawlings' shoulder
Believe it or not, Ghana's former first couple, Jerry Rawlings and his wife Nana Konadu, are urgently in need of an accommodation to rent in Accra and have been combing Accra to talk to a couple of landlords over the matter.
Even though by law the government of Ghana must provide accommodation for all former Presidents, it has not been able to fulfill that aspect of the law.
Nana Konadu Agyeman Rawlings, speaking on Joy Fm's morning show yesterday, brushed aside their plush Ajirigano mansion in Accra and said her family had been reduced to the extent of running around town in search of a place to lay their heads because they had not been able to settle down properly after fire gutted their official Ridge residence five months ago.
The former first lady disclosed that, as a temporary measure of having a place to lay her head at night, she is currently perching at her mother's place at Nyaniba Estate in Accra while former President Rawlings was living in a 'small village house' at Tefle in the Volta Region, but travelled to Accra for meetings when the need arose, a situation which is affecting their marriage.
She said the current arrangement was not making things easy for her life, her marriage, her companionship and her discussions; so she needed to rent a place and settle with her husband.
When the Ridge residence got burnt on February 14, government promised to find an alternative residential facility for them but five months later, that promise from government is far from being fulfilled.
She complained that the Ridge residence might have been saved from the fire if the house had a constant flow of water because when the fire fighters arrived, they had little water in their tanks and thought they could get some more water from the house.
"But I told them that I had not had water for the past three years and that I buy water," Mrs. Rawlings stated  and  added that she had lived in the Ridge area since she was about five years old; but it was only within the last three years that the area started lacking constant water flow.
Commenting on allegations that their burnt residence might have been an arson orchestrated by Jerry Rawlings himself, Nana Konadu said that allegation was as shameful as the persons defending its supposed originator.
Mrs. Rawlings said she never heard that the alleged originator of that allegation was arrested. According to her, she and her husband heard of it only when President Mills publicly disassociated himself from the said arrest.
The former first lady does not have a radio and that was why she did not hear that the young man, Nana Baafi, had been arrested and subsequently charged before a court on complaints from Kofi Adams, special aide to Jerry Rawlings.
On their relationship with President Mills, Nana Konadu said apart from official meetings, they hardly interacted with the president.
She said since Mr. Rawlings plucked Mills from political obscurity, he had the obligation to do what was right.
The National Democratic Congress, since it came to power, has been unable or unwilling to provide former President Kufuor with any sort of accommodation.
Soon after he left power, an official bungalow that had been renovated to serve as an office for Mr Kufuor was snatched away by the National Security Coordinator, Larry Gbevlo-Lartey, who claimed he had possession of the said building.
The family of former President Rawlings had lived at the Ridge residence for over the 19 years that he led the country.
Unfortunately for them, the residence was razed down by a very controversial fire on February 14.
Investigations conducted into the fire could not unravel the cause of the blaze.
By Halifax Ansah-Addo