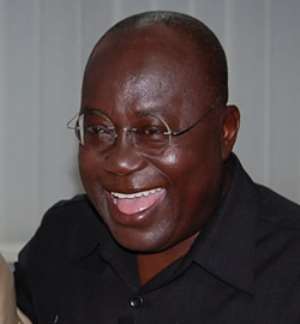 The Wednesday 30th June - Thursday 1st July, 2010 edition of the Enquirer newspaper carried a front page headline: NANA ADDO SLAPS KOFI ADDA.
The story began: "An inspiring presidential candidate of the New Patriotic Party for the 2012 election, Nana Addo Dankwa Akufo-Addo, stirred controversy again when he sacked the MP from Navrongo Central and former Minister of Energy, Joseph Kofi Adda, from joining his campaign team during his campaign tour of the Upper East Region."
It continued, "According to reliable inside source from the NPP, the former Energy Minister allegedly offered to join Nana Addo and his campaign team for their tour of constituencies in the region to solicit the support of the delegates to enable him to become the NPP flagbearer for the second successive time."
The Victory 2012 Campaign Team of Nana Akufo-Addo wishes to state that the Enquirer story is a complete fabrication. It is false in its totality and a poor and an unprincipled attempt to cause disaffection for Nana Akufo-Addo, the MP for Navrongo, other people mentioned in the story with the forlorn hope of fomenting disunity within the NPP.
We are, however, not surprised since this unethical story follows the seeming editorial philosophy of the Enquirer to focus on reports designed to tarnish the image of Nana Akufo-Addo, even if at the cost of sacrificing the journalistic principle of truthfulness.
Nana Akufo-Addo's campaign tour of the Upper East Region started on Thursday, June 24 and ended yesterday, Tuesday, June 29. Mr. Joseph Kofi Adda, a very good friend of Nana Akufo-Addo, took an active part in Nana Akufo-Addo's tour of the Region until the MP for Navrongo left the Region Monday evening to Accra for a scheduled international trip.
For instance, to the hearing of all the journalists present during the regional tour, Mr. Adda was introduced as part of Nana Akufo-Addo's entourage in all the places he attended with the campaign team, including Bawku, West Nabdam and Talensi.
Mr. Adda was originally scheduled to travel on Monday but chose to reschedule his foreign trip so that he could be present when Nana Akufo-Addo visited his constituency. At Navrongo on Monday June 28, Mr. Adda spoke on Nana Akufo-Addo's campaign platform and gave the presidential aspirant a strong, unalloyed endorsement.
We are still praying and hoping that in future the editorial team of the Enquirer may find it journalistically decent and proper to cross-check such stories with us before the final decision is taken whether to inflict or not to inflict its readers with such false stories.