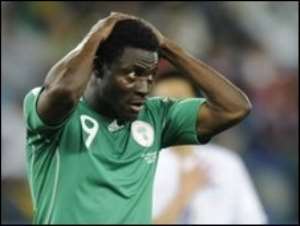 Nigeria's president has suspended his nation's football team from international competition for two years after a poor showing at the World Cup.
Special presidential adviser Ima Niboro told reporters the decision by Goodluck Jonathan will "enable Nigeria to reorganise its football".
The BBC understands the Nigerian Football Federation is to be dissolved and an interim board appointed.
Nigeria were knocked out in the group stages without winning a game.
Niboro said: "This directive became necessary following Nigeria's poor performance in the ongoing World Cup.
Under Fifa rules, government interference with national teams is strictly forbidden.
More to follow