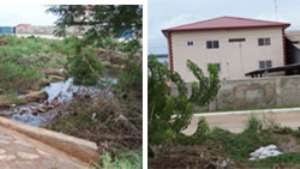 Uproar at kpone over buildings on waterways
By: Bisbark Bebli" onClick="javascript:window.location='/newsphoto/1/1/MjgyNzc3';" >
By: Bisbark Bebli
Despite the demolition exercise that was carried out by the Tema Municipal Assembly (TMA) to remove illegal structures along water ways, checks conducted by this paper after the recent heavy down pour that claimed many lives and properties, show that people are still building on the waterways.
A check in various parts of the country pointed to a situation where some buildings are being speedily constructed and thus creating uneasy tension among some residents.
A visit to Kpong barrier in the Greater Accra region, along the Dawhenya road leading to Volta region, where the recent flood caused a lot of havoc, has revealed that some companies are still building on water ways to the discomfort of other residents.
Just after the barrier, Blowpast Recycling Company Limited has been built along the water boundary, while another company opposite Blowplast is quickly putting finishing touches to their construction work.
The two companies are said to belong to a Lebanese national, and have created a lot of discomfort and havoc for the people in the area. The environment surrounding the building was flooded because the main passage of the water has been diverted by the company.
Residents in the area told this paper that the earlier the Tema Municipal Assembly (TMA) does something about the situation, the better it would be for us all. 'We have heard the authorities claiming that they are demolishing buildings on water ways, but what happens to structures put on water ways by such 'big'companies.
Hon. Kempes Ofosu-Ware, the Municipal Chief Executive for TMA, who led a taskforce team on the demolition exercise at Kragon last week, told this paper that his outfit had set up a committee to investigate the cause of the flood and the number of people displaced.
According to him, some of the companies had already put up their structures at areas suspected to be water ways before he assumed office, and noted that he would direct the Engineering Department of TMA to investigate the circumstances under which permits were given to such companies.