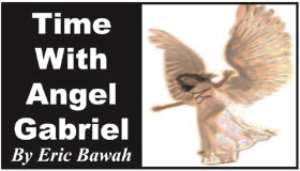 "What a piece of work is a woman! How noble in appearance, In form and in reason, How infinite in faculty. How like an angel in apprehension, How like God.
The beauty of the world" What has become of dress comportment and dress code?  Why are our ladies going nude even before men of God?  Who can rescue the appalling situation? 
These and many more questions are on the lips of Ghanaians when you board a taxi, bus or trotro.  
The situation has been growing from bad to worse and soon it will be uncontrollable. It is even heart-wrenching when you visit the campuses of our universities and polytechnics. 
It is no more a surprise to see a virtually naked girl strolling away to the lecture hall.  It looks as if our tertiary institutions are training strip-tease dancers.   
Let me first admit that fashion is very dynamic.  We have come a long way from the days of 'Hot Pants', 'Afro Bare Buttocks', 'Thousand Buttons Shirt' and 'Mini Skirts'. 
Those days when grown-ups tried to advise us against dressing that way, we thought it was joke-reefer madness on the side of our parents. 
We term our parents as being 'colo' or thinking like our colonial masters. Those were the days when hippies wore flowers in their hair and boys hung their keys on their hip pockets. 
Remember those days?  That generation has children who have grown to be men and women. 
For a generation that believed it dodged dress comportment, the situation that we have found ourselves in today can be a source of worry and parental anxiety.   
What prompted me to write this piece is the way our ladies expose their breasts to the general public.  It begun with 'I am Aware,' as they showed their beads, pants and navels. 
Then, 'Apuskeleke' took over in no time. When some of us wrote against the menace associated with such behaviour, they took us on unduly and called us all sorts of names. 
Then, they graduated to wearing very, very short skirts, which sometimes expose their pants, and short blouses that could only cover the breasts.  Chiefs, queen mothers, men of God, politicians and traditionalists spoke vehemently against these types of dresses but it all fell on deaf ears.  
Today, the deliberate exposure of breasts has become the latest craze as married women, wives of men of God, Members of parliament, kenkey sellers, groundnuts sellers, students, etc,  have all joined the 'exposure business'.   
What is more worrisome is that men of God and chiefs, as well as teachers, who should have led the crusade, have lost the moral right to lead the crusade since their wives and children have also joined the craze. 
Sometimes, one finds it very difficult to distinguish between a prostitute and a married woman because they all dress the same. 
No wonder rape, defilements, incest and other immoral behaviours are on the increase these days. What is happening these days as far as the dress comportment of the daughters of Eve are concerned is a disgrace to womanhood. 
Look at how they deliberately apply some ointments to their breasts, making them shiny before exposing them to the public gaze!    
Under normal circumstances, the thigh, navel, breast, beads and even the waist of a woman is the preserve of her husband.
Things have suddenly changed and our fair ladies do not hesitate to show these vital, sexy and sensitive areas of their tender and lovely bodies to whosoever cares to watch.
Our seamstresses are not doing us any good either as they contribute immensely to this social canker.
A seamstress who can sew slits to show a woman's hind side and show her breast so openly is considered the best and women patronize her boutique. 
Importers of these types of dresses into the country advertise the new craze extensively, thereby making virtue out of vices.  We refuse to understand that vogue is not necessarily the exposure of ones nudity to public gaze.   
What is most disturbing is the sudden change of dressing by our young ladies from the zongos.  When I was growing up in the zongo, I did not see such a rot.  The zongo lady is known for her dress comportment because she has so many role models to learn from. 
These days, our ladies from the zongos have thrown dignity to the dogs by joining the others in exposing their breasts, navels and thighs.  What is wrong with today's 'buduurin zongo? (Zongo Girls). 
As for the trademark veil of the zongo girl, it is seldom seen.  Unlike the days gone by when parents from the zongos could reprimand their daughters for dressing improperly, the zongo parents of today have totally lost control of their daughters, thereby leaving them to do their own thing. 
Today, when you visit the zongos, you will find it difficult to distinguish between an Amariya and an unmarried girl.  They all go partially naked. And the Alhajis and Imams look on indifferently. Very sad indeed! 
These girls cannot live in the Saudi Arabia, Afghanistan or Zamfara State in Nigeria, where Sharia reigns supreme.  They would surely be lynched in public or caned if they dare step on the soil of these places.   
Anytime I watch foreign films, I see white ladies wearing clothes that expose their breasts and other sensitive areas. 
That may be their culture, but for a Ghanaian lady to do so is abominable. The typical Ghanaian lady is taught how to sit, dress and behave in public, from infancy. 
It is therefore unacceptable for our ladies to follow blindly and dress the way white ladies dress.  If they don't see themselves, we see them.  The eye sees not itself, that is why you can't see your face except by reflections.   
In the face of these "sexual provocations", there is a silver lining.  We still have ladies who will not join the craze even if it will cause them to lose their husbands.
These ladies are in the majority and that is the consolation.  What these ladies who are in the majority should do is to propagate the gospel according to decent dressing to the few who are out there to disgrace womanhood. 
The other day, when a pastor of the Pentecost Church suggested that women should be allowed to attend church services in unorthodox cloths of the church, he smelled pepper. 
This fight needs the support of all well meaning Ghanaians, particularly men of God, who are faced with choosing between the few disciplined church members and majority members who will attend church services, improperly dressed and pay their tithe accordingly. 
Is the Minister of Women and Children Affairs listening?  This is the time to speak out and speak out loudly for those who have ears to listen.  Or, maybe we want to wait for Armageddon to happen in real time.