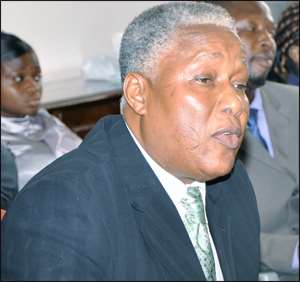 THURSDAY, JULY 1, 2010 marks the authoritative commencement date for the implementation of Single Spin Salary Structure (SSSS) for public sector workers, Government confirmed on Monday.
Enoch Teye Mensah, Minister of Employment and Social Welfare, who disclosed this to journalists, noted that "Government was committed to rolling out the SSSS without any delay or intention of postponement beyond July 1 in spite of certain objections raised by a fraction of labour."
The new pay policy, he indicated, seeks to ensure fairness, equity and transparency in the administration of government's salary payments.  
Noting that nobody would be disadvantaged in the process, he stated that any human error that would be committed in the process would be corrected immediately before the subsequent pay day.
Government, he added, appreciated the rights of labour unions, associations and institutions to collective bargaining negotiations under the laws of the country and therefore "it would not interfere in the negotiating rights of labour unions."
He said confrontations were bound to happen, explaining that the challenges with the new salary policy could not be completely addressed before its implementation.
Advertisement
Touching on concerns raised by the Civil and Local Government Staff Association of Ghana (CLOGSAG), Hon. Mensah averred that though government was cooperating with all interested parties, it was important not to allow the development to halt the implementation of the policy.
Raphael Kwasi Tufuor, Acting Director at Accountant General's Department, noted that his outfit would ensure that SSSS presents few problems, disclosing that the major problem would be the "shock syndrome."
He said workers were not given the opportunity to understand and scrutinize their pay slips before full implementation of the policy.
About 470,000 public sector workers are waiting for the take-off of the SSSS vis-a-vis CLOGSAG's membership of 43,000.
From Business Desk