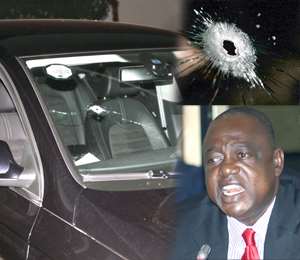 Unknown gunmen opened fire on Health Minister Dr Benjamin Kunbuor around midnight on Monday, shattering his car's windscreen.
A missile suspected to be a bullet ripped through the front passenger's seat of Dr Kunbuor's VW Passat with registration number GW 4959-10, near the Labone Secondary School.
The Minister, who was driving home, escaped unhurt but was visibly shaken by the incident.
Dr. Kunbuor told DAILY GUIDE yesterday that immediately he passed by the secondary school, he heard a bang on the windscreen of his vehicle but thought it was a stone or a falling object.
He was therefore compelled by circumstances to veer off the road to assess the situation when he realized there was an opening on the windscreen.
Dr. Kunbuor, who drove home at top speed while gasping for breath, has since reported the incident to the Cantonments Police and the National Security which have begun investigations into the case.
At the time of the incident, the Minister narrated that his police bodyguard had closed and left for his house.
He could not confidently rule out any foul play when asked whether he suspected anybody over the midnight attack.
Though, not too sure whether it was an assassination attempt on his life, the shock-stricken Minister told DAILY GUIDE that he was considering the option of reviewing his entire security set-up since he felt threatened by the incident which could have claimed his life. The Minister had previously been attacked some years back.
Experts and other eyewitnesses who saw the damage on the vehicle said only a bullet could have caused that massive damage.
They suspected it might still be lodged in the Minister's vehicle or may have passed through the windscreen, escaping through an open window.
It could not be immediately ascertained if the missile was shot by an assailant attempting to kill the Minister or a stray bullet shot by unknown persons.
Advertisement
 However, the trajectory of the missile gave strong indications that it might have been an assassination attempt as it was shot directly in front of his moving vehicle.
Meanwhile, National Security Coordinator Lt. Col. Larry Gbevlo-Lartey (Rtd) has received the gunshot report and his outfit has started investigations into the matter.
He has however refused to make any further comments on the issue until investigations are completed since it involves ballistics.
Coming close on the heels of publications that former President Rawlings was under surveillance because he was the target of a potential assassination attack, questions are being asked about why a close confidante in the person of Dr Kunbour may have narrowly missed a possible gunshot.
The Minister is close to the former President and was a confidante until he was appointed Deputy Minister and later the substantive Minister of Health.
It is however not clear where the Minister was coming from at that time of the night.
By Charles Takyi-Boadu