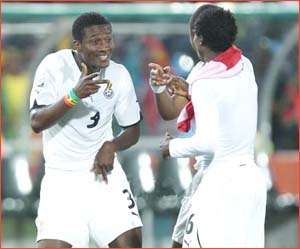 I just don't know what to say about the electricity people. Finally the lights are on after a tortuous one hour wait. My compatriots, finally I can watch part of the Brazil-Cote d'Ivoire match.
If I were from the Niger Delta land, I will say God punish whoever took the light around 11 a.m. at Housing Down and kept the residents in darkness till 6:55 p.m. Or I could have shown them my middle finger or the red card.
 In fact, I would have told whoever said no lights will go off during the World Cup season, God punish him well, well.
Him, because I know no woman will do that. If nothing at all, she wouldn't on compassionate grounds. And even if for some unforeseeable reason she would have, she would never have lied outright that there would be no 'dum so' (keep switching the lights on and off).
My compatriots, believe it or not, they took the light when I was in my revered community for my chiefly duties. It was that Friday when the World Cup opening ceremony was being held. The lights just went out and never came back until well into the South Africa-Mexico match.
Today being father's day, I have been reminiscing on how poorly or well I have fared as a father. Sometimes I feel it has been more of selfishness on my part, depriving my four boys the love and attention they deserve.
As the lights went off in the middle of some serious work on my notebook, I debated with my alter ego whether I have been as lousy a father as engineers have been with our electric power supply system.
I even wondered whether I have told a wicked lie like the presidential candidate who deliberately lied, under the auspices of the despicable CJA, that we shall know no shortage of electric power if we would hand him political power. He lied because now that he is in charge, there are worse power outages in the middle of World Cup matches.
He seems helpless about the dismal electricity supply situation. I will never stop asking him to apologise to the good people of this nation and beg the Almighty for forgiveness for telling pure wicked lies in order to be elected to do nothing life-improving about anything.
I don't know why politicians don't realise the public servants in charge of translating their words into action always hide behind their careless talk, especially during electioneering, to stall the development of this our dear nation.
My compatriot Kofi Capito, the consumer rights advocate consumed by consumable concerns, please take note.
Next time the electric people want bills upped, let them not just tell us that services will improve but how many times and hours less they will switch off your lights, my lights and the lights of all our other compatriots.
Hard to speculate that it's all about selling more generator sets. As a matter of interest, when the lights went off in the morning, my neighbour to the south started his generator and watched the Italy-New Zealand match and all the Nigerian and Agya Koo films in-between.
He and his people continued to enjoy the Brazil-Cote d'Ivoire encounter, during which time the lights resurfaced for us the generator set have-nots to watch the leftover.
My neighbour to the north was away most of the day. He surfaced just before the Brazil-Cote d'Ivoire duel. Realising the no lights situation, he also turned on his generator.
And so until the national grid lights came on at 6.55 pm, there was generator noise to my south and generator noise to my north. Generator, generator everywhere and not a flicker of light, I mean.
Picking some action from radio was as futile as expecting electric light. I hadn't charged my rechargeable lamp which has a built-in radio. It thus took only a few seconds to go off as soon as I turned it on.
In desperation, on comes my dynamo driven radio. It is supposed to be reserved for severe light shortage situations, perhaps in the bush.
Of course darkness everywhere is bush. After a few turns of the handle with the radio going on and off, I thought I should try the dry cell mode.
I walked across to the container opposite in this our containerised country. The lady will sell me a four-pack AA Duracell although I needed three.
That too didn't last long. I went back to winding the dynamo. But the drudgery of repeated turns became disincentive enough for me to abandon listening to the radio.
A while later, I couldn't help but go back to it, the dynamo charging, only to be saved by the return of the ECG or GRIDCO or VRA or whoever given lights.
But my compatriots, why these Brazilians always want to score African countries three goals, I don't understand. They did it to us in 2006 in Germany.
I learnt they did it to us and/or some other African country before that. Poor Zimbabwe, once our conquerors by that same three-goal deficit in Burkina Faso, was dished the magic margin in the last Brazilian trial match before the South Africa World Cup. So much about South-South solidarity!
Maybe our Black Stars will learn to score three a match and not one a match. Thanks to our continental compatriots to our west, Cote d'Ivoire.
They broke the no goal against Brazil by Africa jinx by scoring one goal against the three they conceded. Still, the three for Brazil stays intact. Yet still, though, it is something of a sign of Africa making progress against Brazil; perhaps.
As for those who promised us no 'light off' during the World Cup, they should repent, lest the football gods should descend on them.
Cross my heart, I never mentioned Antoa Nyamaa!  However, I can't vouch for the Irish that they never, in the name of St. Patrick the snake destroyer, invoked such against France's qualifying hand of fate.
By Kwasi Ansu-Kyeremeh