Cruelty On High Seas - 3 Stowaways Thrown To The Sharks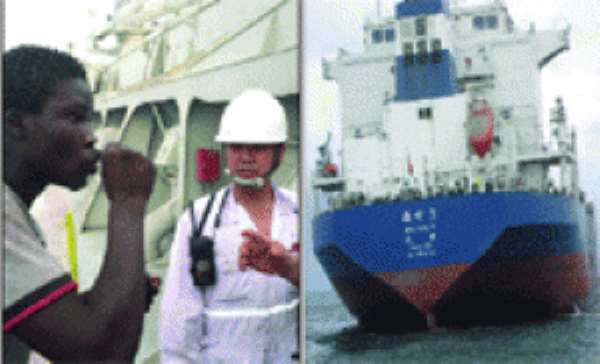 Left: One of the stowaways, Djibah Kamara, stressing a point & right: chinhese vessel, MV Run Ning 3
Agents of National Security are investigating a case of cruelty on the high seas in which three Ivorian nationals are alleged to have been thrown into the ocean by the captain of a Chinese vessel.
The incident happened in Ghanaian waters.
One of the three alleged stowaways who was believed to have hidden himself in the Chinese merchant vessel from Abidjan drowned, while the other two, Omar Secei, 33, and Djiba Kamarah, 22, who spent more than 12 hours on the sea, were rescued by a Ghana Navy ship, according to National Security.
Secei is said to be in critical condition at the Ghana Ports and Harbours Authority (GPHA) Hospital in Takoradi, with doctors doing everything possible to save his life.
Kamarah is currently helping the police in their investigations, while the body of the deceased, identified as Kondah Aziz, is yet to be washed ashore.
The vessel, MV Run Ning 3, has, meanwhile, been impounded by the police and National Security.
Kamarah told investigators that he and the others were discovered by the chief officer of the vessel who, together with his men, threw the stowaways into the sea, in spite of their pleas for mercy.
He said Aziz did not know how to swim and got drowned immediately he was dumped into the sea.
"They dumped Aziz first because he was the first to be discovered. Later, the two of us were also discovered and dumped," Kamarah said.
Kamarah said he and Secei had to swim until personnel of the Ghana Navy on board one of their defender boats rescued and clothed them.
He told the police that he and Secei had compelling evidence to prove that they had been dumped by those on board the Chinese vessel.
"We had a black plastic bag which we used to store food in and a hat which we used to clean our footprints in the vessel," he said.
When the Ghana Navy and the police, led by National Security at the Takoradi Port, boarded the vessel, the said plastic bag and the hat were found where the victims had earlier said they had hidden them.
Kamarah was able to identify the Chief Officer of the vessel, Jiang Youg Sun, and the cook who masterminded the act, in spite of strong resistance from the crew.
Meanwhile, National Security has ordered the vessel not to move anywhere or the Ghana Navy would be sent after it.