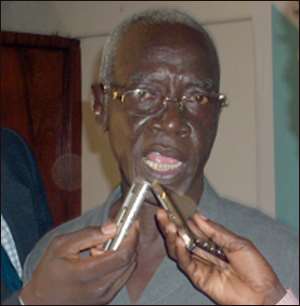 Dr Kwadwo Afari Gyan, ECBoss
ELECTRONIC VOTING is not being considered as an option for the country's 2012 general elections, according to the Chairman of the Electoral Commission, Dr. Kwadwo Afari-Gyan.
A number of pro-democracy and governance institutions, including the Danquah Institute, have called for electronic voting in the next elections as a way of curbing electoral fraud and disputes, which are re-current phenomena in the manual system of voting.
Nevertheless, speaking to journalists after the opening ceremony of a Commonwealth Conference for Heads of Elections Management Bodies in Accra, Dr. Afari-Gyan stated that his outfit would not implement the electronic voting system in the next presidential and parliamentary elections.
The Chairman of EC, who did not give reasons for this stance, however indicated that biometric registration has been on their drawing board, stressing that the new system would take-off when fresh voter registration begins.
Organised by the Commonwealth Secretariat in collaboration with Ghana's EC, the Accra conference brought together heads of election management bodies in the 54-member body to discuss among others, the launching of a network to collaborate with one another and share ideas on how to conduct credible elections in their respective countries.
According to Dr. Afari-Gyan, members would share experiences on how to resolve election disputes, voter registration, dealing with political parties and use of modern technology in elections.
Opening the conference, Vice President, John Dramani Mahama lauded Commonwealth for establishing a network of National Election Management Bodies to promote good electoral practices and to offer relevant and appropriate opportunities for peer support, technical assistance and capacity building.
Disputed elections, Vice President Mahama observed, are major causes of conflicts, acknowledging that "such networking would enable us share information on best practices and enhance confidence of our people in the election process."
He said since 1993, Ghana has continued to put its electoral system to test by learning several lessons, stressing that as the nation pursues the gains of democratic governance, people must be guided by these lessons and continue to work in close collaboration with all stakeholders to make the process more inclusive and acceptable.
Vice President Mahama praised the Chairman of EC and the staff for standing the test of time "having been particularly tested to the limit during the closely fought 2008 elections.
"I must say Dr. Afari-Gyan and his team earned the respect of our nation by their steadfastness and commitment to justice and truth," Vice President Mahama said.
He however entreated EC to use its mechanisms to inquire into the complaints made by the two main political parties, the National Democratic Congress (NDC) and New Patriotic Party (NPP) about abuses of the electoral process in the last elections.
"I urge the EC not to sweep these under the carpet. A thorough interrogation of these complaints can only strengthen our electoral system," Vice President Mahama implored, adding that an inquiry into the issues would help the nation put in place corrective measures before subsequent elections.
A message from the Commonwealth Secretary-General, Kamalesh Sharma noted that "elections are a key element of democratic practice, and election management bodies are pivotal institutions at the heart of the electoral process."
He pointed out that an election management body that was independent, impartial, professional and transparent and enjoy the trust of the people can play a crucial role in ensuring the credibility of an election to enhance public and political confidence in it.
By Awudu Mahama