Afranie Awaits Confirmation As Stars Coach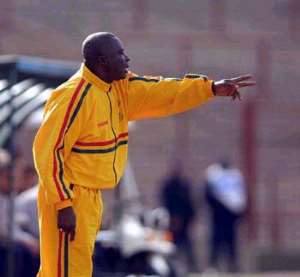 .. as FA, Sports Minister Sing Different Tunes On Coaching Job
Acting Black Stars coach, E.K Afranie says he has done enough over the years to be confirmed as the substantive coach of the Black Stars. He told myjoyonline that his decision to accept the job on an interim basis is enough demonstration of his ability and capability in qualifying the team for the 2004 African Cup of Nations. There has been confusion over Afranie's future as the Sports Minister and FA Chairman sing different tunes over his future. Minister Osei Kweku is reportedly backing the appointment of Afranie on a permanent basis, stating that after dealing for so long with foreign coaches, it was time to go with a local. FA Chairman Ben Koufie also contends that it is too early to say Ghana is not yet ready for another foreign coach. Afranie got Ghana's 2004 campaign back on track with a 4-2 win over Rwanda. The Black Stars faltered in their first qualifying game loosing to Uganda under Milan Zivadinovic. The team's next qualifying game is at home against Uganda in June. Coach E. K. Afranie says if given the chance, he will build a good team to ensure victory in that game and qualification for the Nations Cup in Tunisia. FA, Sports Minister Sing Different Tunes On Black Stars Coaching Job Sports Minister, Edward Osei Kweku and the Chairman of the Ghana Football Association Ben Koufie appear to be on different wavelengths regarding the future of Black Stars coaching job. The Minister is quoted in news reports to have directed that acting Coach E. K. Afranie should be confirmed. He argues after a long association with foreign coaches, it is time to consider a local coach.
But Mr. Koufie told Myjoyonline that no firm decision has been taken on the matter. He says the Football Association and the Sports Ministry would be meeting to deliberate on the issue and see the way forward.
But it looks likely that the FA would advocate the appointment of another foreign coach. Koufie suggested the circumstances, which necessitated the appointed of Milan Zivadinovic, have not really changed. That Ziva experience cost Ghana around 50,000 dollars, one loss against Uganda and yet the Yugoslav lasted for just three months.
Koufie admits that given the way that experience went, advocating the case for the appointment of another foreign coach would be a hard job. But he does not think events of that time should automatically dissuade Ghana from appointing a foreign coach again.
"I admit the Zivadinovic deal didn't go well. But I don't think that because of that we should say we would not go in for a foreign coach again. If Ziva hadn't left us, he would still have been at post and we would still have been under a foreign coach". The uncertainty over which coach to go for has however not stopped seven coaches from putting in applications for the job. They include ex-national star Mohammed Polo, former Black Stars coach Burkhard Ziese and Manuel Concalves Gomes a former coach of Angola who lost out on the job to Italian Guiseppe Dossena in 1998.