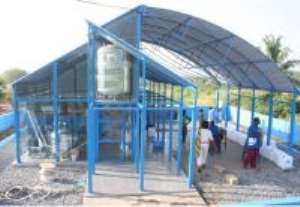 EN-GB X-NONE X-NONE
Tongor-Dzemeni, Ghana, West Africa (April 16, 2010) — With the launch of five WaterHealth Centres in Ghana, installed and operated by WaterHealth International, Safe Water Network has achieved its first major milestone in its goal to advance market-based, community-level water solutions that combat the widespread human suffering caused by waterborne disease.
Leadership funding from PepsiCo Foundation has made possible this initiative to bring safe, affordable water to approximately 35,000 people.   Four Centres are located in the Ga West Municipality in the communities of Pokuase, Amasaman, Obeyeyie, and Oduman.   An additional site is located in the trading village of Tongor-Dzemeni in the South Dayi district of the Volta Region.        
These community-based distributed water systems provide reliable drinking water at affordable rates to rural communities of 5,000-10,000 beyond the reach of piped water systems. Fifty percent of Ghanaians live in rural areas and one-fourth—more than 3-million people—lack access to an improved water source, according to the WHO and UNICEF's Joint Monitoring Programme.
"The WaterHealth Centre has brought great health improvements to our community," said Mr. Otis Mlagada, community spokesperson for Tongor-Dzemeni. "Before we had such convenient and affordable access to clean water, we had high incidents of bilharzias and other water-borne illnesses. We are very grateful for the reduction in such devastating diseases this Centre has brought to Tongor-Dzemeni, and we hope Safe Water Network can do the same for other communities in Ghana ."
Safe Water Network is completing an assessment of these Centres to evaluate their potential to meet the safe water needs in the region.   The objective is to establish an economically sustainable model in Ghana with widespread potential in West Africa .   Johns Hopkins University 's Bloomberg School of Public Health is conducting an independent three-year evaluation to measure the effectiveness of the WaterHealth Centres to deliver positive health outcomes. In addition, Safe Water Network is undertaking a market and feasibility assessment to evaluate the expansion potential in Ghana and neighboring countries.
"Traditional philanthropic water programs frequently fall into disrepair within the first few years," explains Safe Water Network's technical expert Robert Stea.   "These good-intentioned efforts often lack the funds for maintenance and ongoing operations; are not technically suitable; or miss the relationship between hygiene, sanitation and health impacts.   I've seen firsthand the devastating and systemic consequences this has on communities throughout Africa ."
A not-for-profit organization, Safe Water Network's approach is to combine technical, operating, public health, and funding expertise to demonstrate the potential for market-based solutions.   In addition to providing "soft loans" for villages to purchase the initial five Centres, Safe Water Network is making a considerable investment to best ensure water quality is maintained to the point of consumption.    In partnership with WaterHealth International, which installs, maintains and operates the systems to ensure sustainability, Safe Water Network has supplemented the initiative with hygiene training, a test program to encourage use of appropriate containers, and by installing wash basins for appropriate cleaning of containers.  
Safe Water Network has received significant funding as well as resource support in the areas of operations, quality assurance and marketing from PepsiCo and PepsiCo Foundation, which has committed $3.5 million to the organization over 3 years to impact 225,000 people.  
"Safe Water Network is taking a new approach to the water issue and mobilizing experts and capabilities from many sectors," explains Charles Nimako, former CEO of PepsiCo Bottler in Ghana and recently engaged advisor and operations consultant for Safe Water Network.   "Coming from the private sector, I have been very impressed by the forward-thinking models being pursued by Safe Water Network to address the complexity of water provision with culturally, socially and economically sustainable solutions."
The business model for the WaterHealth Centres in Ghana collects a competitive fee from patrons of the safe drinking water.   The objective is for the water revenues to repay the capital loan and operating costs over a period of about eight years, after which ownership of the Centre transfers to the community to become an income generating asset for the village. Initial response at the five pilot sites has been encouraging, with demand exceeding projections.
"The response from the communities in Ghana is encouraging," says Kurt Soderlund, Chief Executive Officer of Safe Water Network. "Working with our partners, we seek to develop a proposition that brings lasting and far reaching improvements to populations now lacking access to safe water in Ghana , West Africa and other areas of the world."
Safe Water Network is also deploying community-based distributed water systems in India and Kenya .   In partnership with the private sector, its focus is to identify technologies, operating models, and funding mechanisms to realize sustainable and scalable solutions.
"It is estimated that 50 percent of the population in Ghana lacks access to potable drinking water," said Sanjay Bhatnagar, CEO of WaterHealth International. "WaterHealth intends to be part of the solution in Ghana to meet the Millennium Development Goals target of 85 percent access to safe, potable water by 2015. We believe that the success of the WaterHealth Centres in Ghana will serve as a template for community based water purification systems WHI intends to install in other African nations."
About Safe Water Network
Safe Water Network's priority is to develop and implement new market-based solutions that deliver safe, affordable and sustainable drinking water solutions to the world's poor.   A not-for-profit, Safe Water Network mobilizes partnerships, resources, and funding necessary to develop and demonstrate new solutions – technologies, systems and operating and funding models – to improve the health and livelihoods of impacted populations.   For more information on Safe Water Network's activities, visit www.safewaternetwork.org.
About WaterHealth International
WaterHealth's vision is to play a central role in bringing safe, quality water to the two billion people around the world who do not have it. WaterHealth Centres allow underserved communities rapid access to safe water at an affordable cost, helping solve the global challenge of waterborne diseases. The company has a sustainable business model under which it constructs a WaterHealth Centre and provides long-term operations, maintenance and quality services to communities for a low, initial one-time investment. For more information on WaterHealth International, visit www.waterhealth.com