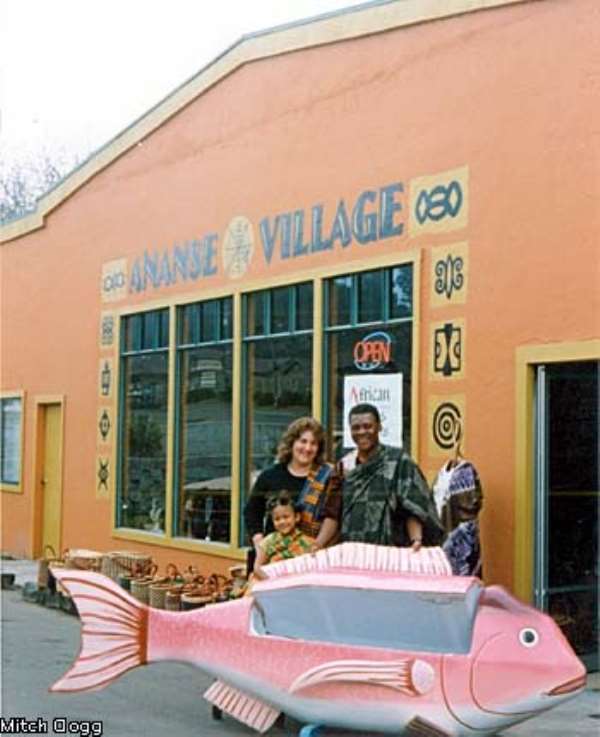 In Jessica Mitford's classic "The American Way of Death," we were ushered into a hushed and carpeted place where brass and dark mahogany gleamed, lids rose noiselessly on oiled hinges, creamy silk rustled and we were ever- so-soothingly separated from our money. Mahogany, or perhaps we could interest you in oak or teak or brushed steel? Paa Joe and Rebecca Amissah-Aidoo and their daughter, Yaa-Amponsah, with fish coffin at Ananse Village, their Fort Bragg store that sells goods from Ghana. What if you could say, "Gee, I just can't decide between the big green fish and the striped spotted lobster with the fabulous long feelers." If you were in Fort Bragg, just north of Mendocino, at a shop called Ananse Village, you could say just that.
The proprietors of this superb African crafts and imports bazaar are Paa Joe and Rebecca Amissah-Aidoo, and they spend about three months of every year in Paa Joe's native Ghana. He comes from a village about 6 miles from the town of Teshi, famous for its artisans who create fantasy coffins that look as if they came out of a dream.
When I saw the coffins, I assumed I was looking at a manifestation of an ancient Ghanaian tradition. Not quite. The gorgeous specimens in Rebecca and Paa Joe's store are from one of the many workshops whose lines of apprenticeship go directly back to the inventors of this funerary art form, two men plenty of people alive today knew and remember well.
Although it's true that funerals in Ghana have always been big, noisy, colorful celebrations of the life of the one who'd died -- about as different from a standard American funeral as a crow from a cockatiel -- the elaborately carved and painted sarcophagi of Teshi were a mid-20th century phenomenon.
First there was Ata Owoo, born around 1904, a woodworker of legendary artistry who was known for the custom palanquins he made for village chiefs. He'd designed and built a magnificent one in the shape of an eagle for Teshi's chief to ride in during processionals. A nearby chief was so impressed with his colleague's eagle palanquin that he ordered one for himself, only he wanted his to be shaped like a giant cocoa pod, a major crop in Ghana.
The chief died before his cocoa pod was finished, but he still got to ride in it: It was modified into a coffin, and it carried him into the next world. That was around 1950.
One of Ata Owoo's most talented young apprentices, a fellow named Kane Kwei, was powerfully inspired by the chief's cocoa-pod coffin. When Kane's grandmother died in 1951, he built a coffin just for her -- shaped like an airplane. The old lady had never been in a plane, but she'd seen them in the sky and longed to fly. Thanks to her grandson, she finally got her airplane ride.
People loved that airplane coffin so much that Kane Kwei understood that he'd found his true calling. He opened his own shop and started making custom coffins symbolic of the deceased's status and worldly occupation: boats for fleet owners; fish or crabs or lobsters for fishermen; cows and bulls for breeders; lions and leopards for hunters; cocoa pods, peppers, green onions or corn cobs for farmers.
Designs evolved quickly, encompassing hobbies and passions, with people being buried in everything from lizards to locomotives. And nowadays you can zoom off to the other side in a scaled-down replica of your favorite Mercedes- Benz (complete with your actual license-plate number) or perhaps your big shiny truck, or, if you were a pilot, a miniature jetliner. A guy who repaired outboard motors got a Yamaha 40 complete with propeller, and a mason got a huge trowel with a tall graceful curving handle. And there's an eagle coffin, but you really have to be a chief to merit one of those.
Kane Kwei went to his reward in 1992, but his legacy is vibrantly alive in the coffin workshops of Teshi.
Paa Joe told me that in Ghana somebody always knows of a funeral somewhere, and it's like a big community party. "Soon the word is all over town," he said.
"People will be saying things like, 'Oh, Honey, no need to cook tonight, let's go to the funeral.' " Better than a party -- you get to eat, drink, dance and cheer up the survivors of the deceased, whether you knew the person or not.
As Paa Joe put it: "It eases the sorrow to look around and see so many people still there with you."
Although throwing a funeral is expensive -- sometimes costing the deceased's family the equivalent of several years' wages, including the price of the coffin -- it's a great investment. Just about everybody who comes contributes so generously that sometimes the family will actually come out ahead.
The coffins sold at Ananse Village run $1,500 to $2,500; in Ghana they might cost $1,000, a major expenditure for the average Ghanaian.
Rebecca said that while a custom coffin is built, bodies are often frozen -- sometimes for quite a spell. "The record had to be the Queen Mother of Teshi. The different sides of her family argued over her coffin for two years."
Finally the government stepped in. The Queen Mother was buried in a truly unique coffin that was half fish and half bird. And her funeral, of course, was gigantic. A sendoff fit for a queen.
What if you're not rich? Paa Joe said there are simple designs -- boats, canoes, books -- that are more within the range of most people. Still, a fantasy coffin is never cheap. The custom is to haggle vigorously over the price, throw your hands up and pretend to walk out, get called back inside by the coffin-maker, and so forth. A far cry indeed from the lugubrious casket showroom death march exposed by Mitford.
I had to know: What kind of coffin did Kane Kwei get? What design could possibly do justice to the man? "He got a plain box," said Paa Joe. "He'd converted, he was a Methodist, and the church doesn't like the fancy coffins."
One of his apprentices built the coffin. He did put some tasteful but powerful symbols on each of the four corners of Kane's coffin: a hammer, a chisel, a saw and a T-square. The church did not object, and Kane Kwei went in style. -- Coffins cost from $1,500 to $2,500. Special orders are welcome. The store also sells jewelry, cloth, drums, masks, CDs, furniture, baskets, and objets d'art.