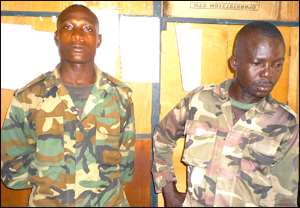 THREE MILITARY Officials from the Military Air Force Base, a police officer from the Accra Central Police Station, and their civilian counterpart, who allegedly conducted an illegal swoop within the Accra Metropolis, extorting various sums of money from their victims, have been arrested by the Greater Accra Regional Police Command.
The soldiers, Lance Corporal Asare Boateng, 33, Private William Taylor, 26, Iddrisu Attu (resigned soldier), 30; the police officer, Corporal Isaac Opare of the Accra Central Police Station and Agbe Mannah, 24, a carpenter, were arrested whiles in the act, in the early hours of yesterday.
They were said to have conducted the operation within parts of Kantamanto, Dansoman, Circle and Avenor, extorting monies from their victims valued at hundreds of Ghana Cedis.
Corporal Isaac Opare of the Accra Central Police Station and one other police officer, whose identity is not yet known, are said to be on the run.
Briefing DAILY GUIDE , the Greater Accra Regional Commander, DCOP Rose Bio Atenga, indicated that on April 29, 2010, around 4:30 am, Lance Corporal Isaac Opare, together with the uniformed military gang, approached a trotro driver of a Hyundai Grace with registration number ES 7028Y, to assist them conduct an operation within some areas of Accra.
She said, the driver, Dickson Arhin, charged an amount of GH¢60 for the operation, which they (the gang) accepted.
The DCOP said they then picked up some of their military counterparts from Kantamanto and headed towards Dansoman, where they arrested and handcuffed some people for dealing in dry leaves suspected to be Indian hemp, adding "on the way, these security personnel made the victims pay some money between GH¢50 to GH¢100, including their mobile phones and other valuable items and abandoned them."
She said the gang then proceeded to Circle and Avenor, where they arrested more people and extorted some money from them.
"However, two of the victims who were arrested, namely, Karim Adbulaih, 24, and Nana Korankye, 30, who did not get the required money to pay, were handcuffed and transported to Accra with the intention of bringing them to the regional police for prosecution," she explained.
The Greater Accra Regional Commander noted that upon reaching the regional police headquarters, the driver of the Hyundai Grace, who thought that they would drive through the yard of the regional police headquarters, was directed to stop at a particular place for them to alight.
She continued that the driver, suspecting foul play, immediately alerted the regional police and the four were grabbed.
DCOP Rose Bio Atenga said Lance Corporal Isaac Opare and another police officer believed to be stationed at the Accra Central Police Station, managed to escape with the booty.
Three of the military men, one of whom claimed to have resigned from active service, were therefore arrested to assist the police in their investigations.
By Linda Tenyah