Ghanaian Faces Execution In Libya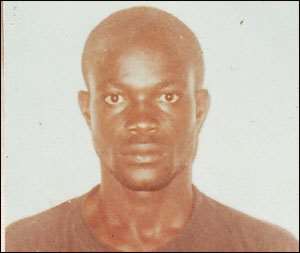 A 26-YEAR-OLD Ghanaian from Techiman-Forikrom, Kofi Nti, is said to be awaiting execution in Libya after he had been sentenced to death in 2004 on suspicion of being involved in the murder of a Mauritanian, then resident in Libya.
Hon. James Kwabena Osei, the assemblyman for Techiman-Forikrom and also a relative of Kofi Nti broke the news to DAILY GUIDE in an interview.
He said his telephone conversation with Kofi Nti revealed that over 40 blacks were arrested in connection with the case by Libyan security personnel, but were allegedly released after paying some money demanded by some Libyan officials.
He also said Kofi Nti has maintained that he is innocent of the charge levelled against him but the Libyan authorities still insist that he was involved.
Hon. Osei therefore appealed to the Minister of Foreign Affairs and Regional Integration to intervene in order to secure the release of Kofi Nti.
According to the assemblyman, Kofi Nti has a wife, two children and an 89-year-old mother who all depend on him.  He said if the authorities fail to intercede, the wife, children and mother will have no one to fend for them.
He also pleaded with the Vice President, John Dramani Mahama, to use his position to help bring home Mr. Nti, as he did sometime ago when a Ghanaian fell into similar trouble.  He was of the view that if the Vice President intercedes, the young man's life will be saved.
Information reaching DAILY GUIDE indicated that there are several Ghanaian immigrants languishing in jails in Libya and awaiting trials on charges bordering on murder, theft and immigration offences. 
In some cases, it was learnt that some are hanged without any trial whatsoever.
Meanwhile, when DAILY GUIDE visited the house of Mr. Nti at Forikrom, it was as if someone had died as sympathizers thronged the place to mourn in sympathy with the wife and children of the convict.
Madam Abena Mansah, Mr. Nti's wife, was weeping uncontrollably while the children aged between five and three, held unto their aged grandmother.
From Eric Bawah, Forikrom