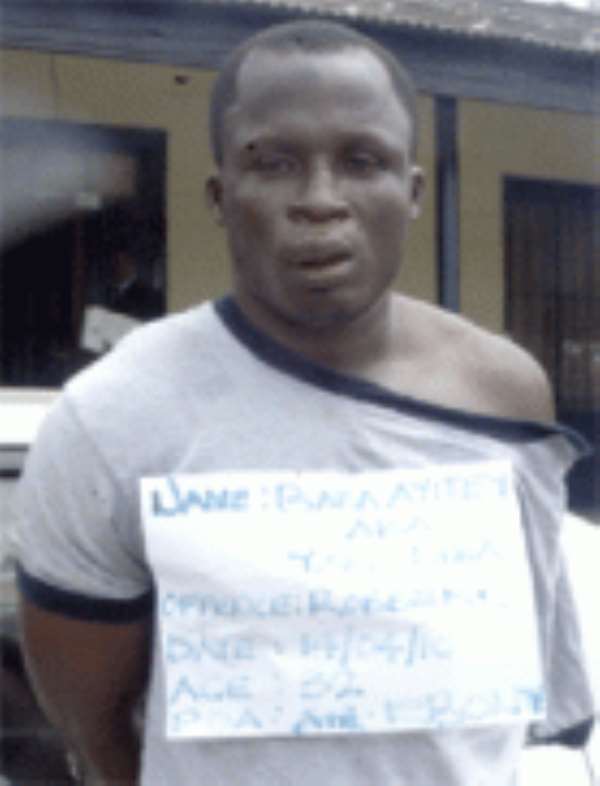 Baaba Ayittey after his arrest
The Accra Regional Police Command has arrested a 32-year-old man for allegedly selling a stolen car, with the number DV2 7289, at Santa Maria.
The suspect, Baaba Ayittey, alias Yaro Nima, was arrested at Pig Farm at 11 p.m. yesterday by the Police Patrol Team following a tip-off.
According to the Deputy Accra Regional Police Commander, ACP Christian Tetteh Yohuno, the suspect is an ex-convict who finished serving his five-year sentence at the Nsawam Prison last December.
He said Yaro Nima stole the car yesterday after the owner had parked it by the roadside to buy something at a nearby shop at Santa Maria around 10 p.m.
ACP Yohuno said after the car had been stolen, the suspect and two of his accomplices, who are on the run, decided to sell it to some buyers at Pig Farm.
According to him, the owner of the car had not yet been identified and appealed to the public to immediately report any criminal act to enable the police to trace the suspects.
He urged any member of the public with information on crimes such as armed robbery to call 021-773906, adding that there were patrol teams in all areas so within five minutes of an attack the police would be of service.