Merseyside teacher cleared of having sex with pupil, 16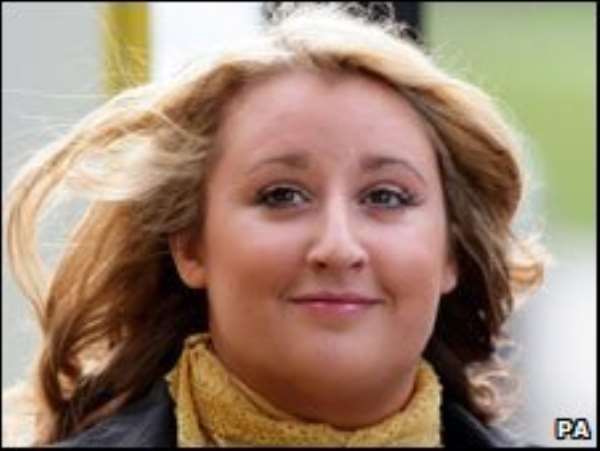 Miss McIntyre said she was "ecstatic" after being cleared

A trainee teacher who was accused of having sex with a 16-year-old pupil has been found not guilty.
Hannah McIntyre, 25, had denied one count of sexual activity with a child by a person in a position of trust.
Liverpool Crown Court heard claims that Miss McIntyre, of Waterloo, Merseyside, seduced the boy after giving him cider.
Miss McIntrye, a teacher at the £8,424-a-year Merchant Taylor's boys school, in Crosby, said she was "ecstatic" after being cleared.
The teenager, who cannot be identified for legal reasons, had claimed the classics teacher had allowed him and two friends into her home on a Friday night, later buying them cider which they drank while watching television and playing a dare game.
Instead, however, the court heard the boy and his friends had barged into her home on the night in January 2008 because they were "bored" and she was an "easy target".
'Career in tatters'
The boy had claimed to have followed her into the bedroom where they had sex.
However, the jury took just 75 minutes to dismiss the youth's claims and find her not guilty.
Judge Robert Warnock immediately told her she was free to leave the dock and she ran into the arms of her boyfriend and parents Irene and Harry, who had supported her throughout the trial.
Miss McIntyre said she needed a large drink and "to sleep for a week".
Asked if she was angry about the false allegations, she added: "Anger is not first among my thoughts right now.
"But he has, with no accountability, made an accusation and I would like to see him have to realise the effect he has had on me."
She also said Merchant Taylors' had "been incredibly supportive" and thanked the witnesses who spoke on her behalf.
Instead of a night where she took advantage of the teenage boys, the jury was clear that she was the victim.
By the time the boys had called round to her home and rifled through her flat they had spent several weeks taunting her.
The jury heard of incidents including locking her in a cupboard and hiding her mobile phone while at school.
Sex noises
When they entered her home, they mishandled her pet lizard, poked her and made sex noises as she hid away from them in her bed, she told the court.
She had asked them to leave on several occasions but they towered over her and made her feel intimidated.
"I had wanted to be a decent teacher who wasn't heavy handed but I think, to them, I became a joke teacher," she said.
Miss McIntyre said her teaching career, a path inspired by her English teacher mother, was now in tatters. It came "crashing to an end" when the boy made the allegation, she said.
The boy claimed to his mother he had sex with his teacher shortly after he was suspended for a third time in six months for being disrespectful to female teachers and using violence against other pupils.
In a statement, the school said: "Merchant Taylors' Schools note the verdict of the court in finding Miss Hannah McIntyre not guilty, and are pleased that this long process has finally been brought to a conclusion.
"Miss McIntyre was dismissed from Merchant Taylors' Boys' School in the autumn of 2009, although there is an appeal pending against this decision.
"The school cannot comment further in order to avoid prejudicing the outcome."