Nigeria's Vice President fails to rule himself out of 2011 polls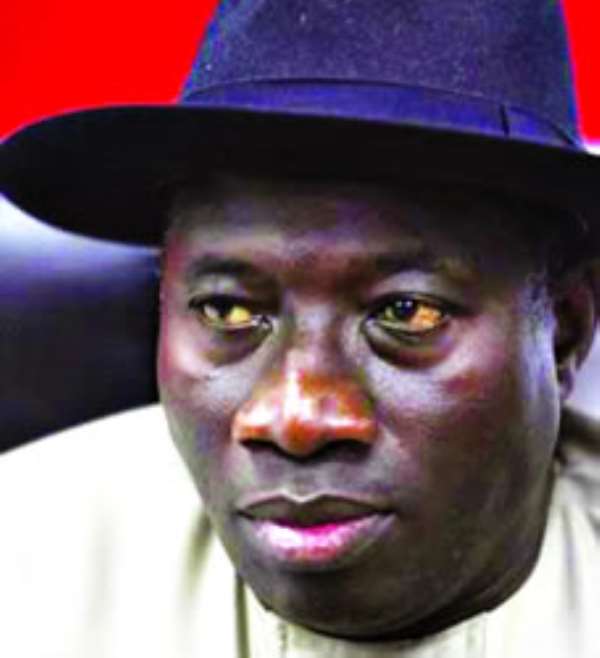 Vice President Goodluck Jonathan

Nigeria's acting President Goodluck Jonathan Wednesday took a middle-of-the road answer to questions on whether or not he would throw his hat into the ring for the presidential poll next year.
In an interview with Christianne Amanpour of Cable News Network (CNN) in the United States, Jonathan neither ruled himself out completely nor categorically said he would run for the presidency in 2011.
He, however, declared that there are options for him such as running for Vice-President.
Jonathan also said that he is currently preoccupied with the numerous challenges facing the country in order to make an impact in the shortest time possible.
When asked pointedly by the CNN correspondent if he was considering running for election, he replied with a rhetorical question.
"If the country is not moving, what will I tell Nigerians if I want to contest?"
He went on to narrate the circumstance of his emergence. "I came in as the vice-president to run with President Yar'Adua, of course, getting close to period of election, he took ill. And I have to take over under somewhat controversial circumstances. Only last week, I reconstituted the cabinet. So let us see how Nigeria will move forward first. I had a similar experience when I was governor of my state." he said
Jonathan said the most pressing problem Nigeria faces is basic infrastructure particularly electricity. The next, in his view, is the conduct of free and fair elections where the votes of the citizens would count.
On whether he has seen President Umaru Musa Yar'Adua since his return from medical trip in Saudi Arabia, the Acting President stated that he has not seen him because the thinking of the family is that the President should be isolated from key actors in government.
"I have not seen him. The Senate president has not seen him ...and at every single government function, I have not seen him," he responded.
He agreed with Amanpour that the current state of things, with regard to the President, is causing anxiety within the country. He also insinuated that perhaps nothing can be done to influence the thinking of the family. He categorically said he would not want to force his way to see the ailing President.
Asked if he knows Yar'Adua's true state of health, Jonathan said only medical doctors can offer that information. He took the correspondent down the lane of events and pointed out that Nigerians were only told last year that the President was suffering from acute pericarditis. No other statement was issued regarding his state of health, he added.
On why Yar'Adua could receive religious leaders and ignore the Acting President, Jonathan said the visit of religious leaders might be for the purpose of blessing the President.
His words: "Well, religious leaders are there for blessings. Probably that is why they asked the religious leaders to go and pray for him. We are a very, very religious society."
Jonathan could not agree that those around Yar'Adua are trying to undermine the cabinet.
"I wouldn't say they are trying to undermine me because the laws of the land are very clear. And, of course, that is why in the first place constitution is designed for two people to be in charge of government at every time, one superior and one inferior." he said
Asked if Yar'Adua can ever come back to office in full capacity, he stated that it would be difficult for mortals to say what would happen.
Jonathan promised to tackle the issue of corruption considering the fact that the country is regarded as one where people who are in government positions amass wealth at the expense of the society.
On whether he will remove the Chairman of the Independent National Electoral Commission (INEC) Professor Maurice Iwu, Jonathan said the issue is whether the present electoral body can conduct free and fair election or not.
He made reference to his address at the Council of Foreign Relations (CFR) and stated: "On issue of the people at INEC, I told them that, look, between now and ending of June, most of the officials at the national level - they're called commissioners - their tenure will end, and we're going to review them on individual merit."
He added that within the period that he has been Acting President, three elections were conducted by INEC and " it was free and fair." This, he argued, proves that the issue goes beyond the INEC commissioner. Anyone can conduct a free and fair election, he opined.
He recalled that last Saturday, a local council election was conducted in the Federal Capital Territory (FCT) and "all the information is that, apart from one or two that had some few discrepancies, they have been very peaceful, very credible... So that is the issue. So the issue is beyond one person."
He quickly pointed out that he was not defending the INEC chairman. On whether or not Iwu would be removed, Jonathan said all of them would be reviewed adding that any one of them found to be incompetent will "definitely go".
Asked if Iwu is competent, the Acting President said: "I know that this question continues to come up. What I've said is... the issue is beyond Mr. Iwu."
He continued: "I agree that within the period…there are quite a number of controversies. I agree. There are quite a number of concerns. There are quite a number of controversies. So I know what I'm telling you; that this very Iwu, I'm not trying to argue for him. The Iwu we are talking about has conducted free elections these past three elections that I've made reference to that are credible."
The Acting President said Nigeria must set up an electoral system and regulations and laws that would ensure that anybody who is appointed to that office should be able to conduct acceptable elections.
Jonathan also spoke on the decision of former military President Gen. Ibrahim Babangida to contest 2011 poll. He said that Babangida is free to contest the presidency.
"Other military leaders are interested in contesting the presidency, not only Banbagida , and they are all free. On that 11th day, Nigerian votes will count, and not me." he said
He promised to re-energise the amnesty process in the Niger Delta region and explained why some militants are still restive.
His words: "What's happened is that people don't really understand total concept of the amnesty. The amnesty is divided into three phases. The disarmament phase - that is the phase where militants surrender their weapons; then rehabilitation phase."
He gave an explanation of the Jos crisis. "There's a lot of settlers from the South-eastern part of Nigeria, from the South-western part of Nigeria and from the extreme North. So most of these settlers now play big in the economy, local economy. So the indigenous population feel that they have been excluded from the economy and that has been bringing conflict from the early '60s.
"Of course, we're also providing security, because, first of all, you must provide adequate security to make sure that people don't carry weapons and intimidate or kill others, so that is being done."
The Acting President said he is appealing to the conscience of the residents through their leaders. "Both opinion leaders, both their religious leaders, both traditional leaders. And it is paying off."
On his discussion with US President Barack Obama regarding Umar Farouk Abdulmutallab who tried to blow up a US-bound plane last year, Jonathan described the incident as unfortunate.