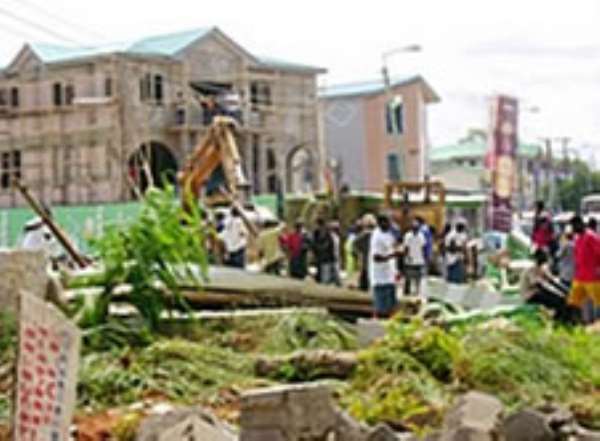 The Accra Metropolitan Assembly (AMA) has begun an exercise to demolish more than 140 unauthorised structures on watercourses in its bid to reduce the perennial flooding of some areas within the western part of Accra.
The exercise, which started yesterday, is also aimed at paving the way for the construction of storm drains in those areas for a more holistic development of the road network in parts of western Accra.
The exercise began from Banana Inn, Abolo Bridge, through Kamara to Sukura.
Residents who heard of the exercise trooped to the place to observe as the bulldozers razed down the affected houses.
When the Daily Graphic reached the scene of demolition at about 10: 20 a.m, about 20 houses had already been pulled down and according to the Metropolitan Chief Executive of the AMA, Mr Alfred Vanderpuije, some 59 houses would be demolished by the close of the day.
He explained that a similar, exercise would take place at Sakaman, Odorkor, Zambaramaline and Darkuman Junction among other flood-prone areas within the national capital, Accra. "
"We have a responsibility to ensure rapid infrastructural development of the city and keep our people safe from floods and other man-made disasters," he said and commended the people of the area for their co-operation so far.
"What we are doing is in the interest of the larger population and I am happy that the people have realised this," he added.
A resident whose house was demolished at Kamaara, Madam Patience Gondor, said she was duly informed last year and so she had already removed her property from the house before the exercise took place. .
"This is a difficult situation but once it is meant for the good of all residents living in this part of the city, I will find a way to cope with it," she said.
Heavy floods in the western parts of Accra on Friday, June 19, 2009 claimed at least seven lives and caused massive destruction to private and public property after two hours of rain.
Following last year's floods, the AMA earmarked for demolition some unauthorised structures which were found to have largely caused the flooding.
A GH¢ 13-million bridge is being constructed over a major drain on the Guggisberg Avenue Extension to create an alternative route for motorists travelling from Korle-Bu to Dansoman.
The work, which was inspected by Mr Vanderpuije, is being constructed by China Zong Hao and scheduled to be completed in July next year.