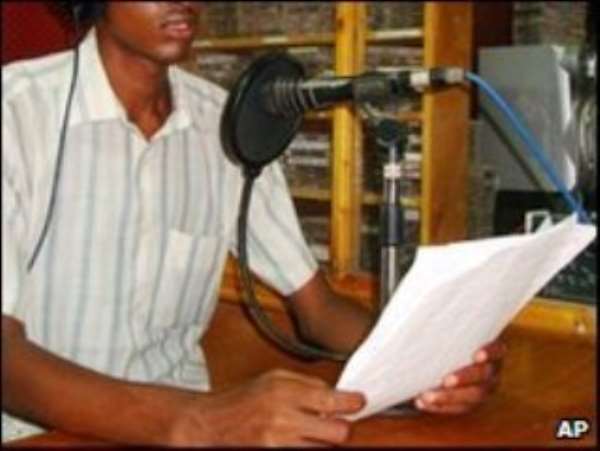 All but two of Mogadishu's 13 radio stations used to broadcast music

Most radio stations in Somalia have stopped playing music, on the orders of Islamist Hizbul-Islam insurgents who say that songs are un-Islamic.
The stations said they had to comply with the ban as if they did not, they would be putting their lives at risk.
The BBC correspondent in Somalia says this latest order has strong echoes of the Taliban in Afghanistan.
In the past, militants in some areas have banned watching films and football and made men's beards compulsory.
Somalia has not had a functioning central government since 1991 and the Islamist militants control large parts of its territory.
The transitional government - backed by African Union troops and UN funds - controls only a small part of the capital, Mogadishu.
'Losing listeners'
The BBC's Mohammed Olad Hassan in Mogadishu says the order to stop playing music and jingles was issued 10 days ago. All but two of the city's 15 radio stations used to broadcast music.
Residents can now only hear music from the government-controlled radio station and another Kenya-based UN-funded radio station, which has a FM transmitter in Mogadishu, he says.
"We are using other sounds such as gunfire, the noise of the vehicles and birds to link up our programmes and news," said Abdulahi Yasin Jama, Tusmo radio's head of the programmes.
Another radio controller said he feared they would lose listeners and advertisers.
Pop music is genuinely popular in Mogadishu and many people resent being told what they can hear on the radio, our reporter says.
Last week, al-Shabab, the country's other big militant group, closed down BBC radio relay stations in five cities in southern Somalia, including Mogadishu.