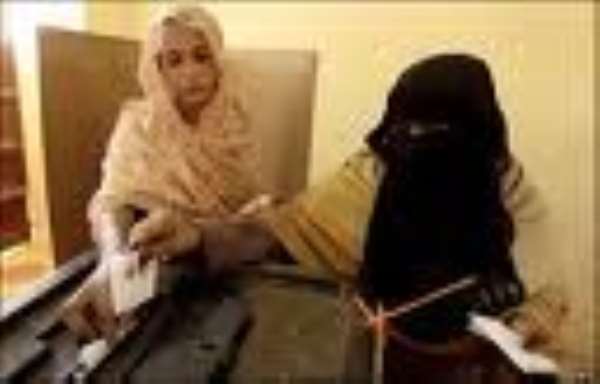 Sudan's election has been extended by two days, officials say, after delays in delivering ballot papers. The Election Commission said the polls, the first multi-party election in 24 years, would now run for five days and end on Thursday.
Earlier, a group of opposition parties denounced the election as a fraud and called for new polls.
The vote, in Africa's largest nation, is part of a peace deal which ended two decades of north-south war in 2005.
The presidential, parliamentary and state polls have been delayed repeatedly. Many of the main contenders have pulled out because of security and ballot-fraud concerns.
When polls opened on Sunday, there were delays getting ballot papers out, ballot mix-ups and names missing from the electoral roll.
There have also been complaints that some polling stations were moved without notice and observers were not allowed to witness voting.
On Monday, the head of one of Sudan's largest election observer groups said voting had not begun in some districts in the south of the country because ballots had not yet arrived.
The BBC's Will Ross in the southern capital, Juba, says voting there was much smoother than on the first day.
But he says that in some polling stations outside the town, where voting began only on Monday, they have not received enough ballot papers and so polling has again been suspended.
Several opposition parties have boycotted the process and it is widely expected that the country's two most influential men, President Omar al-Bashir, and Salva Kiir, who leads largely autonomous Southern Sudan, will retain their positions.
Earlier on Monday, an alliance of the major opposition parties, including some which had boycotted the voting, said the elections were a fraud and were "stealing the dreams of the Sudanese people".
Speaking for the group, Mariam al-Mahdi said the process lacked any credibility.
She said the group, which includes the Umma Party and the Communist Party, would mobilise civil resistance against the current government.
'Good feeling'
International observers, including former US President Jimmy Carter's group and President Barack Obama's envoy Scott Gration, were attempting to legitimise the rule of President Bashir, she added.
Mr Bashir is seeking a democratic mandate after being indicted by the International Criminal Court for alleged war crimes in Darfur but a boycott of the poll by his two main challengers means his legitimacy is likely to be reduced, says the BBC's James Copnall in Khartoum.
Mr Kiir was forced to wait for his polling station to open in Juba but he said afterwards that he had a "good feeling" about the country's political future.
There have also been logistical difficulties in the Darfur region, where a low-level civil war has pushed about three million people into refugee camps.
There have been no reports of violence in Darfur, but the joint UN-African Union mission (Unamid) said four peacekeepers had been missing since Sunday.
The civil war ended in 2005 with a power-sharing deal between the Sudan People's Liberation Movement (SPLM) and Mr Bashir's National Congress Party.
The SPLM runs the south on its own and shares national power with the NCP.
For many in Southern Sudan, these elections are a prelude to a referendum next January on possible independence.
Mr Bashir has said he will accept the referendum result, even if it favours independence for the south.
However, the country's oil fields lie along the north-south border and some fear that an independence bid could lead to renewed conflict.