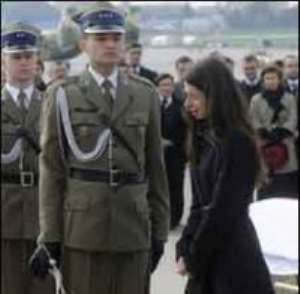 The body of Polish President Lech Kaczynski is to lie in state in the capital Warsaw as the nation mourns the victims of the Smolensk air crash. He and 95 others, including many top defence officials and public figures, died when their jet crashed en route to a war memorial service in Russia.
Russia is marking a day of mourning, as relatives arrive in Moscow try to identify the bodies of the victims.
Russian investigators suspect pilot error caused the crash.
They say the pilots were warned that they were flying too low just before the plane clipped tree-tops in heavy fog, as it was coming in to land at an air base on Saturday morning.
Poland has moved to fill some of the gaps left by the disaster, appointing an acting head of the central bank, while the presidential post has been filled by the parliamentary speaker pending a new election.
The Polish government plane was carrying leaders from across national public life who had been due to attend a memorial for the Polish victims of a World War II massacre by Soviet secret police at Katyn in the Smolensk region.
In what observers see as another sign of reconciliation between Warsaw and Moscow, a Polish film about the Katyn massacre of Polish officers and intellectuals by the Soviets in 1940 has been screened on prime time Russian television, after earlier appearing on a minor channel only.
Commentators in Poland have stressed the irony that so many senior figures were killed making a visit to commemorate victims of a massacre which targeted the elite of Poland's officer corps.
"This is so very much like Katyn, where our head was cut off," said former President Lech Walesa.
Signs of reconciliation