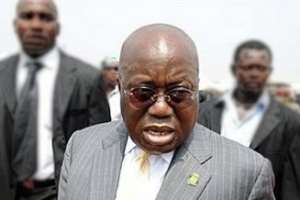 Nana Akufo-Addo
The New Patriotic Party Member of Parliament (MP) for Subin on Monday dismissed suggestions that he had made unsavoury comments about two key figures in the party.
Mr Isaac Osei, who has filed his nomination to contest for flag bearer at the party's congress in August, is reported to have said that whilst flag bearer aspirant Nana Akufo-Addo is too old, Mr Alan Kyerematen, also an aspirant, was simply not ready to be president.
The Subin MP, in an interview with Joy FM's Super Morning Show on Monday, said the statements attributed to him were untrue, stressing "I am really shocked."
"This is completely unfair; that's not the way we have to do politics in this country," he indicated.
According to Mr Osei, under no circumstance would he make any such comment aimed at spiting his contenders for cheap political points.
The former ambassador to the United Kingdom and Ireland said the statement he made about "the important figures" in the party was that he was in the "middle" in terms of age and would be the right person to lead the party. Whilst he is older than Alan, he is much younger than Nana Addo.
"Alan Kyerematen is a younger man than I am and Nana Akufo-Addo was an older man than I am and I am squarely in the middle. This is precisely what I said," he indicated.
If elected president, he would be entering the Jubilee House by the same age ex-president Kufuor entered the Osu Castle in 2001, he said.
Nana Addo, the oldest among the aspirants is 68 years, whilst Isaac Osei is 59 years old, seven years older than 52-year-old Alan Kyerematen.
Vigorous campaign
Mr Isaac Osei has, meanwhile, expressed high optimism that he would win the bid to contest for president on the ticket of the New Patriotic Party.
Despite the recent misrepresentation by some sections of the media, he indicated, he would win hands down.
"In spite of what some people, especially in the media, are saying, I believe that I will win. Look, often, people like to compare black and white. They forget that there is always a grey area in the middle, and that's where I am," he indicated.
'Backroom boy'
The flag bearer aspirant also dispelled the notion that he is not as popular as his other contenders in the race.
According to him, he had been a staunch member of the party since 1992 but only remained a "backroom boy" until he was appointed ambassador by the previous government.
Since then, he has served in various capacities in both private firms and state institutions, he said, adding with his ambassadorial background, he brings on board "some diplomatic skills and international experience."
Mr Isaac Osei is one of three persons who recently filed to contest as presidential candidate aspirants for the NPP.
Also in the race are renowned surgeon Prof. Frimpong Boateng and lawyer Kwame Kodua who have also picked up their forms.
Listen to the full interview with Isaac Osei in the attached audio
Story by Fiifi Koomson/Myjoyonline.com/Ghana