Polish Leader's Body Flown Home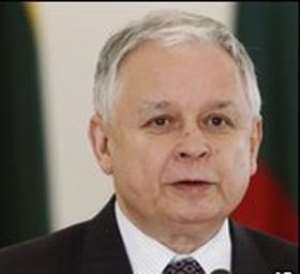 President Lech Kaczynski
The body of Polish President Lech Kaczynski - who died along with 95 others when their plane crashed in Russia - has arrived back in Warsaw.
It was driven through crowd-lined streets to the presidential palace, where it will lie in state for a week.
The president, military chiefs and MPs were due to attend a memorial for a World War II massacre when their plane crashed near Smolensk on Saturday.
Russian officials say the pilots were warned that they were flying too low.
Russian Prime Minister Vladimir Putin earlier attended a memorial service for the victims at the crash site, near the city of Smolensk.
He has said he would personally oversee the investigation into the disaster, promising to find out what happened as soon as possible.
Week of mourning
No-one survived Saturday's crash, and acting Polish President Bronislaw Komorowski has called for a week's mourning for the dead.
He, Prime Minister Donald Tusk and the president's twin brother, Jaroslaw, were among the dignitaries to receive Mr Kaczynski's coffin at a military airport in Warsaw after its repatriation from Smolensk.
The casket, draped in the red-and-white Polish flag, was carried across the tarmac by soldiers and placed before Catholic clerics who led a short prayer service before mourners took turns to kneel before the coffin and pay their respects.
Crowds of Poles lined the streets of the city, standing silently as the president's body was driven under military escort to the presidential palace, where it will be available for public viewing.
Thousands had gathered in front of the building, carrying flowers, candles, Polish flags and portraits of the deceased.
Some wept, others stood in silent reflection. As the president's body arrived, they softly began to sing the Polish national anthem.
Church services to honour their memory were earlier held across the country, as was a two-minute tribute, with church bells and police sirens.
'A great patriot'
Jaroslaw Kaczynski, Poland's former prime minister, had earlier travelled to Russia to help identify his twin's body.
The brothers' strong nationalist, conservative agenda divided opinion in Poland, but the BBC's Adam Easton in Warsaw says the president's supporters and opponents have joined together in paying tribute to him.
Boguslaw Staron, a 70-year-old from Warsaw, described Mr Kaczynski as "a great patriot".
"He taught Poles how to respect our traditions, how to fight for our dignity, and he made his sacrifice there at that tragic place," he said.
Poles gathered in town squares and in the streets at midday (1000 GMT) and stood silently to mark the tragedy, as church bells rang and emergency sirens wailed around them.
The president had been flying to Russia along with his wife, the heads of the army and navy, MPs and senior historians to mark 70 years since Soviet forces massacred more than 20,000 Poles near Katyn.
Source: BBC