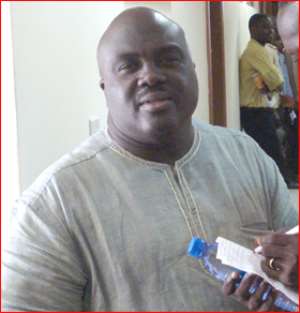 Julius Debrah
About one million people took part in the paragliding festival, which was held at Kwahu in the Eastern Region during Easter.
Most hotels, guest houses, tents and private homes were rented out to visitors and tourists, according to the Executive Director of the Ghana Tourist Board (GTB), Julius Debrah.
According to him, the significance of the programme had compelled stakeholders to launch the 2011 paragliding festival that would held during the Easter in April 2011.
"Starting from today, posters and other materials about the festival would be pasted on the notices of Ghana embassies abroad to inform and encourage more people to visit this all important festival.
Space would also be bought for advertisement in the two most important worldwide magazines that advertise tourism activities," said the Executive Director.
The paragliding festival, which is the brain child of the late Ferdinand Ayim, has attracted several Ghanaians from all parts of the country and foreigners since its introduction.
Mr. Debrah emphasized that domestic tourism would be used to stimulate the local economy in order to generate more revenue for the nation.
In most southern African countries, tourism contributes significantly to their Gross Domestic Product (GDP) and Ghana is seeking to generate more income from tourism to boost its economy.
He revealed that there were many challenges such as poor roads leading to some of the towns, especially Atibie.
Mr. Debrah expressed the hope that measures would be adopted to make the festival a very important one in the country.
He commended Government, the Ministry of Tourism, Kwahu Development Association, Kwahu West Municipality, among others for supporting the event.
Meanwhile, the Ministry of Tourism would liaise with the Ghana Air force to train some local pilots to airlift people on helicopters during next year's festival.
14 pilots from South Africa, United States of America, Norway, France, Germany and Benin flew the foreign tourists and some Ghanaians from the take-off point on the Odwenanoma Mountains to the Nkawkaw Park.
By Charles Nixon Yeboah