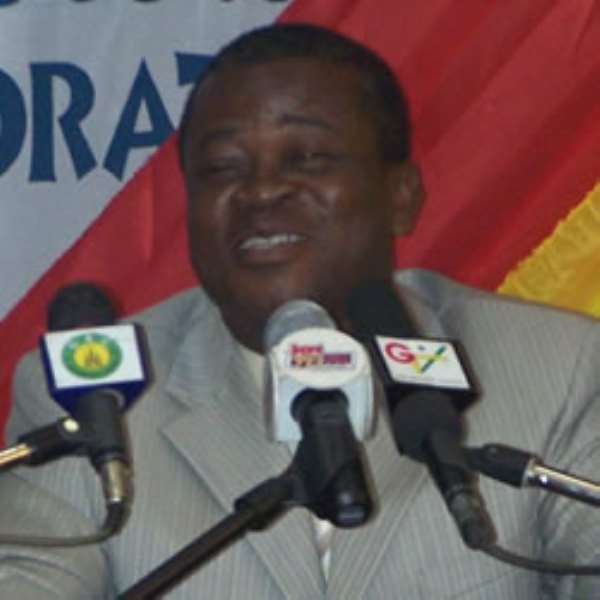 GBC boss William Ampem Darko
The Director-General of the Ghana Broadcasting Corporation has vowed to resist what says are vicious attempts by the Board Chairman of the Corporation to push him out of office.
Mr William Ampem Darko told Joy News he will continue to perform his official functions in total disregard for a Serious Fraud Office (SFO) directive requesting his interdiction for alleged financial malfeasance.
A letter from the SFO dated April 6 and addressed to the Board Chairman of GBC, requested the interdiction of Mr. Ampem Darko and three others by Friday, April 9 to pave the way for investigations into some financial irregularities in the corporation's operations.
But Ampem Darko said he is not going anywhere because the investigations of the SFO were engineered by the Board Chairman, Prof. John Ahetor in furtherance of his grand scheme to get him out of office.
According to him, the Board Chairman was the person who submitted the allegations of financial malfeasance to the SFO for investigation and wondered why an internal investigative process was not activated and explanations sought before the matter was referred straight to the SFO.
"I want to be frank with you, the very day [Prof. Ahetor] stepped foot on GBC premises, that is 20th of April 2009, he started working towards my exit. I don't know whether he [wants] to take my position when I exit," he said.
Mr Ampem Darko said the "Board Chairman wants to ensure that I leave the position and perhaps he comes to sit there or he gets someone who is very docile to sit there for him to carry out his nefarious activities."
He said he had not received a letter directing him to step aside but added that if he receives a letter signed by Prof. Ahetor directing him to leave office, "I will refuse to oblige [because] it wasn't the Board Chairman who appointed me and I know that he has a very vicious agenda."
Meanwhile staff of the state broadcaster are wearing red in protest against what they say is unfair moves by the board to remove their boss from office.
They are expected to hold a press conference later today to state their position on the issue while the board is also expected to meet to deliberate on the request by the SFO.
Sources say the workers of GBC intend to scuttle the meeting of the board.
The GBC boss has had some tough times with the new board constituted by President JEA Mills. He was recently directed by the board to take his accumulated leave which was quashed by the National Media Commission.
Story by Malik Abass Daabu/Myjoyonline.com/Ghana