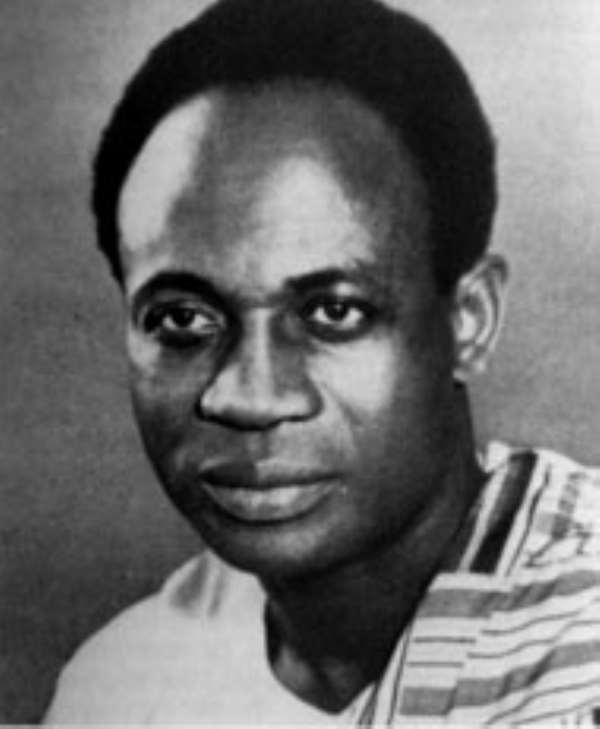 Here in the United States of America, while Gen. George Washington is revered for his yeomanly contribution to the foundation and development of arguably the most advanced modern mega-nation, it is Civil War-President Abraham Lincoln – the man credited with freeing African-Americans from the odious yoke of slavery – who is invariably accorded the coveted accolade of being the greatest American leader. Similarly, in this article, it is our convicted contention that while Mr. Kwame Nkrumah deserves to be honored for being modern Ghana's first postcolonial premier, it is Dr. Joseph (Kwame Kyeretwie) Boakye Danquah – the man who liberated Ghanaians from postcolonial tyranny by fiercely championing the democratic rule of law (and in the process losing his very life) – who must be credited with being the greatest Ghanaian as well as the greatest fighter for indigenous African democracy.
Unfortunately, however, the problem with soundly debating the Nkrumacrats is that the latter camp of adherents is largely composed of "know-nothing" fanatics whose mantra, chanted with near-religious fervor, is: "Nkrumah Never Dies!" This sort of noetic vacuity, of course, is a vintage carryover from the infamous Young-Pioneer days. It is, tragically speaking, almost as if the great wagon of common sense bypassed the backyards and home-villages of these Nkrumacrats; and then the proverbial daybreak's cockerel crowed for these late-rising Nkrumacrats to groggily emerge from their comatose slumber.
Anyway, the preceding observation was provoked by an article captioned "The Big Six Is A Myth" that was published in the Ghanaweb.com edition of April 8, 2010. Once again, a godforsaken ignoramus had decided to impugn the integrity, dignity and historicity of my ancestors by electing, of all days, my birthday to deploy such goofy heresy. Nonetheless, as must have, by now, dawned on these intransigent Nkrumacrats, Kwame Agyeman Atoapoma loves a good fight. Alas, when the turf and terms of debate are hermetically unidimensional, then, of course, one can only hope that the ultimate semiotic arbitration resides in an open-minded, un-indoctrinated, scholastically puissant and fiercely independent audience. And here must also be unreservedly acknowledged the fact that while such discursive terrain is extremely difficult to locate on our postcolonial Ghanaian political landscape, it is, nonetheless, not altogether an extreme or rarefied impossibility.
In the main, the writer of the article captioned "The Big Six Is A Myth" was rejoining an earlier condemnatory statement published on Ghanaweb.com by the American chapter of the New Patriotic Party (NPP-USA). In this regard, however, all I can say is that I firmly believe that NPP-USA is composed of intellectually very formidable operatives who can more than eloquently return salvo and then some, as urban New Yorkers are wont to say. Suffice it for me to note in passing, however, that what most piqued my interest about the aforementioned article, was the author's rather retching attempt to inject ethno-regionalism into an otherwise quite pedestrian and perennial debate vis-à-vis the identity of the foremost contributors to the shaping and development of modern Ghana. Needless to say, anybody who has read my quite extensive literary corpus on the matter ought to have no qualms as to where both my loyalty and informed opinion lie.
Anyway, what piqued my interest, and attention, most was the following paragraph from the writer of the aforesaid tirade: "It is still the attitude with today's rudderless, corrupt, insensitive and self[-]destructive NPP; we should not forget how the NPP went campaigning in the UK and the USA when the then presidential candidate Mills was relating to the people with his door[-]to[-]door campaigns. Even today they criticize President Mills for traveling to the Northern Region and other parts of Ghana to see for himself what is happening on the ground. They would rather like to see him go globetrotting like NPP's Kuffour [sic], who used the tax payer's money for his easy rides and per diems, which honourable [sic] President Mills now refused [sic] to take."
Just how the writer came to believe that supporters of the NPP do not live in "the Northern Region and other parts of Ghana" is simply curious to me. But, of course, those who are used to how the lurid game of ethnic chauvinism is played in our part of the world can only hold our sides and stop our bodies from splitting with uncontrollable guffaws. Then again, why wouldn't Akan-descended presidential candidates not feel mortally afraid of canvassing for votes in the Northern Region, when even the fundamental existential safety of the most significant traditional rulers from the area, such as the Ya-Na, cannot be guaranteed? And then, isn't it also rather tragically humorous that some northerners would criminally undertake the savage execution/assassination/regicide of their own Ya-Na, or paramount chieftain, and then demand that a government holed up in Accra, some 300-plus miles away, come up to identify and punish the same killers who are also bona fide members of their own communities and families?
Anyway, among the Akan, there is a proverbial reprimand for such lunatic and dastardly act which loosely translates as follows: "One does not pluck the feathers off a bird and ask an elder to name the species to which the it/victim belongs."
The writer also facilely claims that Dr. J. B. Danquah never initiated Mr. Kwame Nkrumah into the dramatic art and practice of politics. In theory, that may quite well be true since, in Aristotelian terms, "Human beings are incurable political animals." In reality, though, almost no astute and honest student of modern Ghanaian politics can boldly and rationally gainsay the fact that, indeed, it was the putative Doyen of Gold Coast and Ghanaian politics who first ceded a wet-eared and embarrassingly naïve Mr. Kofi Nwia Kwame Nkrumah his very first known national political platform/forum in Ghana. The evidently ignorant writer of "The Big Six Is A Myth" only needs to read David Apter's Ghana In Transition to "hear" Nkrumah vehemently boast in the Legislative Assembly about his "seminal" contribution to Ghana's independence struggle from 1947, when he joined and became General-Secretary of the landmark and legendary United Gold Coast Convention (UGCC), the very political organization whose "Convention" name Nkrumah would shamelessly plagiarize and make the nominal foundation of his so-called Convention People's Party (CPP) in June 1949.
Paradoxically also, many an Nkrumacrat is quick to highlight her/his idol's formative contribution to the African liberation struggle by recalling Nkrumah's leadership in the London-based West African Students' Union (WASU). What they would not be bold and honest enough to tell their readers and listeners is the incontrovertible fact that Dr. J. B. Danquah was the First/Founding President of the West African Students' Union! Indeed, this organizational nexus with Nkrumah may well have prompted the leader of the UGCC to afford his exuberant protégé the requisite qualifications for viable leadership. And what is more, Nkrumah himself recognized Dr. Danquah as his political mentor!
What needs to also be highlighted is the inescapable fact that nearly every seminally prominent member of the CPP – i.e. Messrs. Kojo Botsio, Komla Gbedemah, Archie Casely-Hayford, Krobo Edusei – had first either worked under or been tutored by the immortalized Doyen of Gold Coast and Ghanaian politics. The glaring fact of the matter is that one does not quixotically kick against Gold Coast's anti-colonial struggle and then, somehow, come up with the name by which it would be called upon Ghana's declaration of sovereignty from British colonial domination. Yet, somehow, in the schizophrenic imagination of the Nkrumacrats, such caricature embodies the personality of their hero's arch-nemesis.
On the question of etching Nkrumah's image on the two-cedi note, my well-considered position is to have each and every one of the members of the celebrated Big Six separately grace a denomination of the cedi. The American example couldn't be too difficult for Ghanaians to emulate? Or could it? My first gut reaction, however, was to launch a massive boycott against the newly unveiled two-cedi note, having lived as a toddler under a CPP regime that sported an Nkrumah image on postage stamps, cedi notes and all public buildings and plazas, almost as if Nkrumah were the proverbial Ananse sole fount of enlightenment in modern Ghana.
Of course, I also have my own catalogue of grievances against the executive membership of the New Patriotic Party (NPP), vis-à-vis the leadership's shamefully tepid and outright diffident and woefully ill-mannered attitude towards the fitting glorification of our own ancestors and heroes, at least publicly speaking. But I would rather reserve such grievances for broaching at a more auspicious moment.
*Kwame Okoampa-Ahoofe, Jr., Ph.D., is Associate Professor of English, Journalism and Creative Writing at Nassau Community College of the State University of New York, Garden City. He is a Governing Board Member of the Accra-based Danquah Institute (DI), the renowned pro-democracy policy think tank, and the author of 21 books, including "Ghanaian Politics Today" (Atumpan Publications/Lulu.com, 2008). E-mail: [email protected]
###