The man who turned "Rawlings chain into Rawlings coat" is ready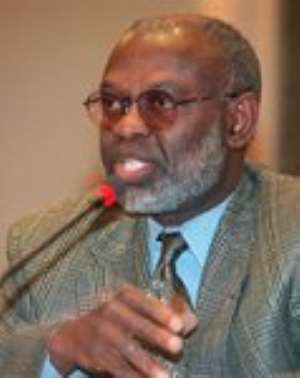 Former Finance Minister, Dr Kwesi Botchwey says he now understands Ghana's socio-economic challenges and how the country's "tremendous potentials" could be utilised for accelerated development better than before. "I now want to devote my life to that course," he added. Dr Botchwey, who is vying for the presidential slot of the National Democratic Congress (NDC), said after resigning as a Minister of Finance about six years ago and being away from government has thought him many lessons.
Interacting with journalists in Accra, the former Finance Minister said after touring Europe and other countries, he has realized the need for the implementation of intensive programmes that will boost Ghana's development, especially in the areas of poverty reduction, child mortality, education and other sectors.
"I have come to understand the more, challenges facing this country with its tremendous potentials, which could make a break through to become the gate way to West Africa". I will devote my life to this course and at the appropriate time launch my campaign, he said, adding that, he would like to engage in debates before outlining his vision for the NDC and the nation.
Dr Botchwey praised the media for promoting democracy. "I will like to applaud the great work the media is doing and I am saying this not for political purposes but I must admit that the media is doing a good job for the people of this country. The media has played a laudable role in making it possible for the people of Ghana to choose freely a democratic government that moved governance from NDC to the New Patriotic Party (NPP)".
He urged the journalists to continue playing their watchdog role to ensure stability and to deepen democracy in the country.
The MP for Shai-Osudoku, Mike Gizo, who introduced Dr Botchwey described him the man who "turned the Rawlings chain into the Rawlings coat" and likened the former Finance Minister to the biblical David who killed Goliath. He urged Ghanaians not to underrate personalities with the potentials of "turning the nation around".