Rally Behind Us - JAK To Ghanaians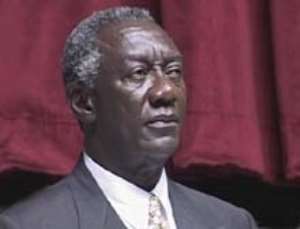 President J. A. Kufuor has made it clear that the Constitution provides for only one government at a time and has therefore asked Ghanaians to rally solidly behind the government to develop the country. He said although not all Ghanaians voted for him and the NPP, it is imperative that the people recognise him and his government and also bury all their differences in order to move the country forward. " I know that all the people cannot be members of my party, but you should accept me as your President and my government as your government."
The President made the remarks when he addressed a grand durbar of chiefs and people of the Frafra Traditional Area at Bolgatanga. The durbar was organised in honour of the President to round off his three-day maiden visit to the Upper East Region.
President Kufuor added that "we want to leave a landmark in this country so that you will not regret voting for Kufuor as President and the NPP to form a government. My government is not going to be a government of words but of deeds."
He noted that most countries in the world are now acknowledging that Ghana has a good government, so there is the need for Ghanaians themselves to appreciate the gains chalked so far by the government. If outsiders have realised this, why not we ourselves?"
The President told the people that freedom and justice are the watchword of the government, since, as he puts it, without freedom, the wealth of the nation cannot be tapped and the people will continue to live in poverty. He said it is the avowed aim of the government to see to it that the sons and daughters of the country go about their businesses in an atmosphere of absolute freedom and happiness.
President Kufuor submitted that the Upper East Region is not poor, as claimed by the people but that there are abundant resources which have not been exploited to their benefit. "You are sitting on gold. The Fumbisi Valley is there for agriculture and the Bawku Cattle Market is a place of wealth, so there is no poverty in Upper East. If you keep on saying, you are poor you shall continue to be in poverty," the President advised.
He underscored the need for the people to help themselves so that in return they will be assisted and called on them to improve on their handicrafts. The President gave the assurance that the government will do everything possible to reactivate the meat and tomato factories at Zuarungu and Pwalugu respectively, by arranging a partnership.
He noted that the two projects when revived in the Bolgatanga District will create employment for the youth, adding that "l have not been happy about the manner in which the two factories have been abandoned for so many years with the machines being in absolute state of disrepair."
The Paramount Chief of the area, Naba Martin Abiliba in his welcoming address said, although the President's visit to the region has delayed, he has adequately compensated for it by visiting every district and nearly every traditional area, saying that "this is unprecedented and we congratulate you." The Bolga Naba expressed the hope that the President in future will launch his special initiative on guinea fowl in the region.