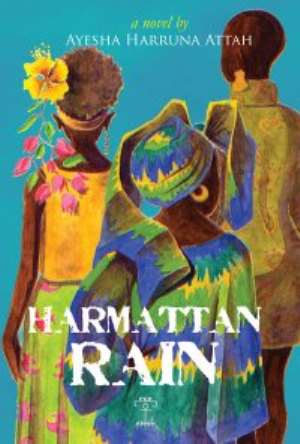 "Harmattan Rain, Ayesha Harruna Attah's first novel is set in The Gold Coast/Ghana in 1954, and tells the story of three generations of women. Lizzie-Achiaa runs away from her home in Adukrom No.2 to escape her father, Papa Yaw's crude attempts to marry her off to any old suitor, but more urgently, to find her lover, Bador Samed who had disappeared after their first love encounter. She eventually arrives in Accra where she becomes Mrs. Mensah. Her first daughter, Akua Afriyie, walks out of Kingsley House, Achimota School just before her A-level Examinations to have her daughter Sugri, the result of a girlish escapade. Sugri, a brilliant student wins a scholarship to study Medicine at Columbia University in New York. Alone in that big, impersonal city she learns about life and grows up.
The story spans the period, 1954 to 1999, the beginning of which era the people of this country became 'politically active'. Politics is the backdrop of Ayesha's novel and she uses it with historical accuracy and her consummate skill as a story teller. Everyone talks politics. Even the Irish nun, Mother Constance expresses her doubts about this country's readiness for independence.Lizzie-Achiaa visits Kumasi in the midst of an NLM rally and has a taste of the determined opposition to Nkrumah's CPP, and throughout the novel comments and opinions on each head of state from Nkrumah through Busia, Archeampong to Rawlings are freely and, sometimes, brutally expressed wherever people gather. Ayesha's judicious use of contemporary views and attitudes to politics and politicians greatly enhances the value and appeal of this outstanding novel.
Harmattan Rain is skillfully structured, making it very 'reader-friendly'. In addition to the age-old style of giving each chapter a title, we are given dates to mark the passage of time, and snippets of news from the radio and newspapers to update us on events. The epilogue which is dominated by Papa Yaw mellowed by age and telling us what had happened "back in the early fifties," is a particularly skillful device which is both poignant and beautiful.
One of the many outstanding qualities of Harmattan Rain is Ayesha's talent for observation. She literally 'never misses a thing' and this, together with her remarkable insight into the Ghanaian psyche, makes her description of real places, people and events, recognizable and unforgettable. We are compelled to be more than onlookers. We become participants. We were with the silent ring of spectators when Papa Yaw, exuding palm wine fumes and armed with a neem branch, mercilessly beats his rebellious daughter. Ayesha takes us along as Lizzie runs away from home stumbling through forest and farm, plunging into the River Nsu to get as far away from Adukrom No2 as possible. We watch helplessly as soldiers ransack Asantewa's store, destroying valuable goods in their search for hoarded goods. We recognize the fop in the tan suit and pressed hair in the nightclub, and enjoy Ayesha's satirical account of his crude advances to Lizzie.
Women Empowerment


Ayesha Harruna Attah, author of the Harmattan Rain pix:Sefa Nkansa
I am persuaded that Harmattan Rain is really about the empowerment of women, but with a difference. This is not the empowerment that comes as a special favour from others to be dispensed in gender-sensitive morsels but the strength that comes from within each woman who has the character and intelligence to grasp each opportunity as Lizzie does, or cut their losses and move on as her daughter Afriyie succeeds in doing. A single mother at sixteen and estranged from her mother she brings up her daughter Sugri with determined dedication, sacrifice and friendship. Ayesha's portrayal of mother, daughter and granddaughter is masterly.They have the same determined spirit and often disagree but their bonding is very clearly and delicately drawn.
The men in Harmattan Rain are somewhat diminished in stature by the women. Mr. Mensah is kind but colourless, John Barnor Afriyie's boss, bumbles. Pastor Edem Adomza is deceitfully self-righteous and Rashid, Sugri's errant father, belongs to a line of heartless seducers of young girls. Many years later his victim, Afriyie, dismisses him with the delightful irony, "Have you seen that pot belly?" Bador Samed stalks the pages of the novel like a lost soul. A heroic figure, he finds his loved one never to be parted from her. This, the only real tragedy in the novel is unexpected and with a beauty that haunts.
Ama Ata Aidoo in launching Harmattan Rain called it "a coming –of –age novel" And so it is, for this is Ayesha Harruna Attah's first novel and written at twenty five. It is a novel of remarkable maturity, written in lucid and succinct prose and full of imagination, boldness and humour. We expect that these and other excellent qualities will grow and endure."
Credit: Frances Ademola, reviewed in the Daily Graphic