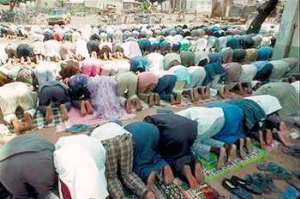 Mr Mohammed Ali, Presiding Member of the Sekondi-Takoradi Metropolitan Assembly (STMA), on Saturday launched a Muslim Endowment Fund known as WAQF Foundation at Takoradi.
He said with proper management, the Foundation would achieve a lot in the area of education for the Muslim community in the Western Region.
Mr Ali, therefore, advised those who would be entrusted with the management of the fund to be prudent about how the funds would be used and to ensure accountability.
He also urged Muslims irrespective of the sects they belonged to, to unite and contribute financially towards the fund and to support it in other ways.
Sheikh Suleman Ahmed Mozu, Western Regional Ahle-Sunna Wal Jama'a (ASUAJ) Imam, said the idea to set up the Foundation was mooted by the Chief Imam of Ahle-Sunna Wal Jama'a, Sheikh Umar Ibrahim and every committed Ghanaian Muslim would contribute one Ghana cedi monthly to it for five years.
He said the fund would help to eradicate poverty and ignorance among Muslims and assist to raise their living standards.
Sheikh Mozu said the pilot phase of the fund was successfully implemented in the region and added that it would soon be launched in all regions of the country.
Chief Imam Sheikh Ibrahim said the fund would make a big difference in the lives of Muslims when it was well patronized.
He said wealth should be used to bring up children to be respectful citizens.