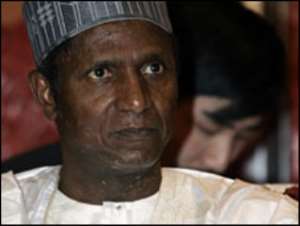 Minister of Information and Communications, Professor Dora Akunyili, has blamed those she called a cabal of aides around President Umaru Musa Yar'Adua for the tension generated by his return to the country. Akunyili said this small group of people mishandled the president's return, making it a nocturnal affair on purpose to profiteer from the ensuing confusion.

Yar'Adua, who had been receiving treatment in Saudi Arabia for a heart condition since November 23 last year, jetted back to Nigeria just after midnight on Tuesday, jolting Nigerians and the international community. The world reacted with surprise to the return, with tension rising again just when the political class thought they had found a way round the constitutional crisis instigated by the president's long absence from duty with the declaration of the vice president, Dr. Goodluck Jonathan, as Acting President.
Akunyili in an interview at the weekend said some of the president's handlers were bent on elongating and profiteering from the political crisis.
"I believe that it is people around him that were gaining from the confusion; people around him that are doing to him today what 100 million political enemies cannot do to him. The cabal wants to continue with their usual statement of 'the president said,' and you must comply. They want to continue dishing out instructions even when the president did not say so," the minister said. She warned: "This cabal should, please, stop heating up the system and allow President Yar'Adua to recover."
Akunyili called Yar'Adua a "very peace-loving" man who would never wish to bring instability to his country.
According to her, "If President Yar'Adua were to be my father or my brother, I will not allow anybody to do to him what they are doing to him today. This is the president of a country. This is a man so loved by Nigerians... His humility is disarming. He is sincere. Look at what he did with Niger Delta. He has done a lot for this country and, suddenly, a few people are rubbishing it. They smuggled him into this country in the night. This is the President of the Federal Republic of Nigeria. I think it's something that is unnecessary and uncalled for and should be decried by all who sincerely love the president."
On management of information about the president's return, Akunyili said, "Things have not been properly managed by some people around our dear president. We were not told officially that our president was coming back.
"It was even Al-Jazeera that broke the news, but I didn't hear it because I had slept. They broke the news that he was leaving Saudi Arabia for Nigeria. They also broke the news of the arrival. But I heard it on CNN. For the fact that it was not officially announced that our dear president was coming back and the acting president was not even aware – from his interaction with ministers, we knew that he was not aware.
"That created a lot of concern among the populace and the tension was so high that even United States of America made a comment.
"Our Council did not hold. We were there at 10am and waited till 12, and as we were waiting, there was tension. Whatever the council members feared was exposed when we got the press release from the Presidency, referring to the acting president twice as Vice President and that heightened the tension in the system, because what it actually means by referring to him as Vice President is that whatever he has done in the past few weeks to stabilise the sinking ship of the nation did not mean anything to the people around the president. Otherwise, why would they even release that kind of press statement?"
Advertisement
Akunyili said she would not hesitate to resign her appointment as a minister if doing so would help strengthen the nation's polity. She added that she has to be convinced that doing so would be in the interest of Nigeria's stability.
She said although she loves her job, she would not keep quiet in the face of injustice that was being meted out on Nigerians by those who have now built a cocoon around the president. She said she raised a memo calling on the Executive Council of the Federation (EXCOF) to investigate the state of health of President Yar'Adua, even though she was aware it could mean political suicide.
Akunyili explained that presenting the controversial memo to EXCOF was informed by the vacuum in governance which President Yar'Adua's absence had created.
As Vice President, Akunyili added that Acting President Goodluck Jonathan could not take decisive decisions on matters that were of utmost importance to the country's unity.
"I didn't notice any vacuum in the first weeks until I started hearing stories of the Vice President cannot submit documents to National Assembly. In the case of Jos crisis, people came to ask why he sent soldiers. Things were coming up one after the other. That statement about why he sent soldiers shocked me to my marrow. I said "so this man cannot really do much for us".
"They queried why we were holding Federal Executive Council meetings and that it's illegal. We were all reading the papers and listening to commentaries. It was the unfolding scenario that made me feel that we needed to encourage our President to hand over to Dr Jonathan as the Acting President."