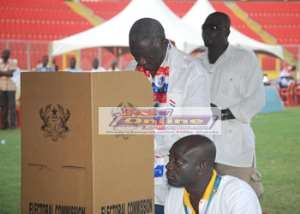 Vote-counting at the ongoing National Delegates Conference of the New Patriotic Party has started just about 10pm after the last region, Ashanti ended voting.
Electoral officers have created 10 voting centres, one for each region, to expedite the process.
Almost 4,500 delegates, NPP parliamentarians and a few other party officers are at the polls to elect national officers to lead Ghana's largest opposition party for the next four years.
Eight executive positions are available for the elections; National Chairman, Vice-Chairperson (4 positions), General Secretary, National Organiser, Women's Organiser, National Youth Organiser, National Treasurer and the Nasara Club.
Myjoyonline.com is on standby to update patrons with results as soon as counting ends.
Candidates for NPP National Officer Positions
National Chairman:
Stephen Ntim………….
Jake Otanka Obetsebi-Lamptey ………….
Charles Wereko-Brobby………….
Felix Owusu Adjepong…………….
Sammy Crabbe……………
Vice-Chairperson:
Sophia Horner-Sam…………
Edward Collins Boateng……………
Sheikh T.B. Damba……………
Amadu Kaleem………………
Rita Asobayire…………
Fred Oware……………
Michael Omari Wadie…………
Baaba Otoo……………
General Secretary:
Owusu Afriyie……………
Yaw Buabeng Asamoah……………
Captain Nkrabeah Effah Dartey…………
Obeng Busia……………
Ohene Ntow……………
National Youth Organiser:
Anthony Abayefa Karbo…………
Stephen Amoah……………
Michael Ampong……………
Enam Hadzide……………
Women's Organiser:
Christine Churcher…………
Otiko Afisah Djaba……………
National Organiser:
John Boadu……………
Alhaji Moctar Musa Bamba………
Isaac Eduosar Edumadze…………
National Treasurer:
Esther Ofori…………
Nasara Club: