Kumawu: Clashes erupt at counting of votes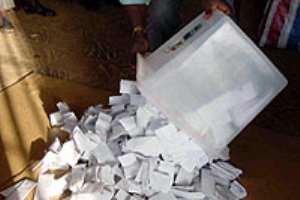 Clashes erupted between supporters of the New Patriotic Party (NPP) and National Democratic Congress (NDC) at the Kumawu Zongo at the close of poll before counting of votes started in the Kumawu bye-election on Tuesday.
Police and military personnel had to quickly step in to restore order. The cause of the incident was not immediately known but there was no casualty.
Meanwhile, huge crowds of party faithfuls had gathered at the various polling stations to witness the counting of the ballot.
Results declared at some of the polling stations in Kumawu showed a good start for the NPP.
At the market square polling station, the NPP recorded 125 votes, GCPP, two votes, DPP, zero, NDC, 22 and PNC zero.
The polling station at the Presbyterian Mission recorded 247 votes for the NPP, NDC 15, DPP three, PNC one and GCPP zero.
At the Gyidi polling station, NPP had 175 votes, NDC 44, PNC one, DPP, PNC and GCPP had no votes.
At the Benevolent Muslim Mission polling station, NPP had 36 votes, NDC 290, DPP zero, PNC one and GCPP one.
The NPP recorded 359 votes at the Kumawu Roman Catholic polling station, NDC 23, DPP one, GCPP three and PNC one.
At the Kumawu Council polling station, NPP had 489 votes, NDC 44, GCPP four, PNC zero and DPP zero.
Counting continues.