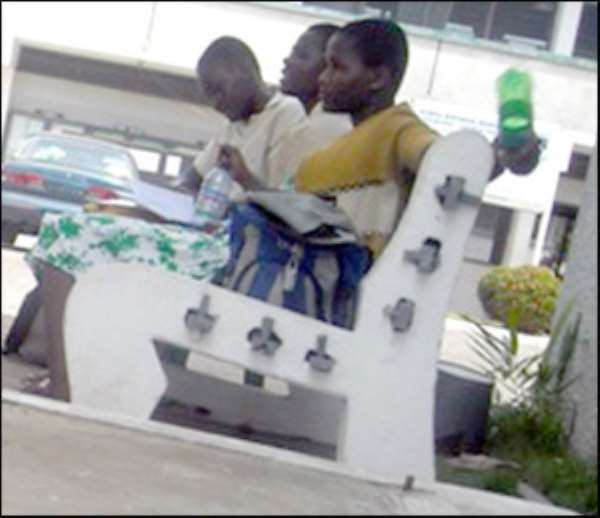 ·Students waiting for their parents at the school yesterday
STUDENTS OF Archbishop Porter Girls Senior High School in Takoradi have been given their mid-term break to enable parents take their wards home for proper medical attention following the alleged food poisoning that struck the girls' school last Wednesday.  
Over 100 students were rushed to the Effia Nkwanta Hospital, Sekondi for vomiting and worrying diarrhoea after taking their evening meal of rice and groundnut soup.
A parent who rushed to the school upon hearing the incident fainted and was ferried into hospital for treatment.   
The Parent Teacher Association (PTA) chairman of the school, Rev Francis Oppong Ankomah, who confirmed the story in an interview with DAILY GUIDE , denied media report that the school has been closed down, adding that those who did not want to go home were even on campus.   
According to him, the break had come at an opportune time to allow parents who were bent on taking their children home to take proper care of them, when the schools authorities met with them last Thursday, to do so.   
He said the mid-term break started on the morning of Friday, February 12, 2010 and that all the students were expected to be back in school on Sunday, February 14, 2010 at exactly 4:00pm.
DAILY GUIDE gathered however that the school's authorities allowed some of the students to go home at the insistence of their parents, during the crunch PTA meeting held on Thursday, for proper medical tests of their wards.
When DAILY GUIDE got to the school campus at about 12:30pm yesterday, regular academic work was halted as almost half of the student population was out of campus.   
Both the school authorities and the students who were present on campus at the time of the paper's visit declined to grant the paper an interview.
Information DAILY GUIDE gathered indicated that officials of the Food and Drugs Board (FDB) had taken samples of the meal purported to have caused the alleged poisoning for investigations.
The board, DAILY GUIDE gathered, had also directed that the school's current food stock should not be touched until investigations into the alleged poisoning case were completed.
In an interview with the media, Nana Kofi Adjei Imbeah, Sekondi-Takoradi Metropolitan Director of Education, said his outfit was enforcing the directive while a proper fumigation exercise of the school was in progress.
Meanwhile, health authorities say it will take up to a week before they can confidently determine what exactly led to the mass hospitalization of the students.
Last Wednesday, some students of the school who vomited and showed symptoms of diarrhoea were rushed to the Effia Nkwanta Regional Hospital on an alleged food poisoning while many others were attended to by doctors on campus, consequently compelling the school authorities to grant the students mid-term holidays.
From Emmanuel Opoku, Takoradi