Notorious visa fraudster grabbed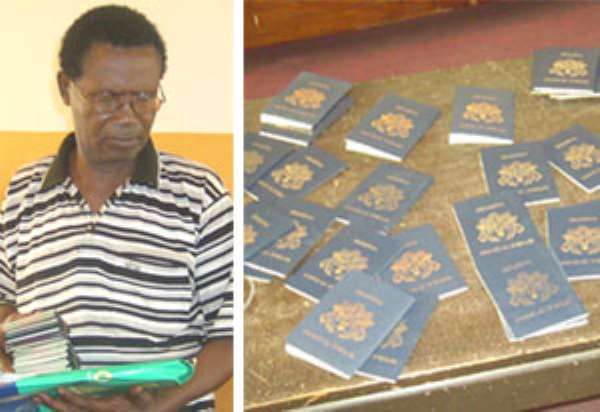 A SELF-styled Kumasi-based businessman, who has duped a number of unsuspecting people under the pretext of securing them visas, has been arrested by the police.
Kingsley Ntiamoah, 57, was arrested on February 8, 2010 at his hideout at Kwamang, near Offinso, after playing hide-and-seek with the police. Ntiamoah, who claims to be a businessman dealing in computers and an internet café operator, is alleged to have duped his victims off a whopping sum of GH¢95,850.
About 55 passports, belonging to his victims, were retrieved from him by the police after his arrest.
He is also alleged to have involved in multiple cases of visa fraud, and has been on the police wanted list for sometime now.
Briefing the media in Kumasi, the Ashanti Regional Police Public Relations Officer (PRO), Chief Inspector Mohammed Tanko, about 36 people had so far lodged complaints with the police, concerning the activities of the suspect, and that 23 out of the number had officially given their statements to the police.
According to him, the police received reports somewhere last year, from some complainants that Ntiamoah had duped them off various sums of monies, ranging between GH¢6,500 and GH¢1,200, with the promise that he was going to secure them visas within three weeks, to enable them travel abroad.
Chief Inspector Tanko said after successfully outwitting his victims and collecting the monies from them, the suspect disappeared from Kumasi, and kept on deceiving his victims anytime he was reached on the phone that he was either in Abidjan or Kenya, facilitating the acquisition of the visas.
After waiting for several months without any positive outcome, the victims made separate reports to a number of police stations in the metropolis about the activities of the suspect.
The Police PRO said on February 8, the police had a tip-off that the suspect was in a hideout at his hometown at Kwamang, a small community near Offinso, and upon investigation, Ntiamoah was subsequently arrested.
Among the items retrieved from him included Australian medical forms, passports bearing photographs of his victims, and other visa-related documents.
Meanwhile, a High Court in Kumasi, which is trying the suspect on charges of false pretenses and fraud, has remanded Ntiamoah into police custody to re-appear before it on February 16, 2010. Pix: (above) Some of the passports retrieved from the suspect. (right) Ntiamoah with some of the passports.