Environmental Management Plan For Akosombo Dam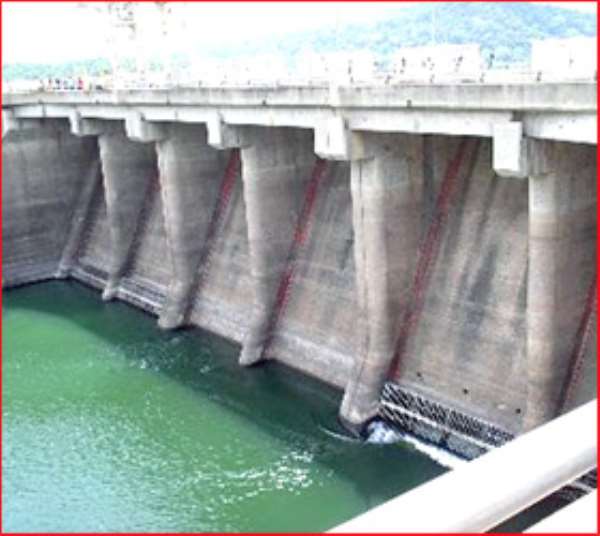 Akosombo Dam
The Volta River Authority (VRA) has announced plans to prepare an Environmental Management Plan (EMP) for the Akosombo and Kpong Dams.
The preparation and implementation of the plan is expected to fulfill a key legal requirement of the Ghana Environmental Protection Agency (EPA) as required by the Environmental Assessment Regulation LI 1652, 1999.
It is also in accordance with practices in Environmental Management such as ISO 14000 and important requirements by International Funding Agencies such as the World Bank.
The plan further fulfills VRA's mandate under the Volta River Development Act 46 (1961) which obliges the authority to provide as far as practicable, facilities and assistance for the development of the lake to become an economically viable resource.  
Meanwhile, the authority has over the years undertaken a many activities to promote the well being of inhabitants along the lake.
The activities include the services of the Onipa Nua Medical Boat, the Bilharzia Control Programme, studies to promote alternative livelihood activities in the Lower Volta Basin as well as the Water Hyacinth and Weed Control in the Volta Lake and Kpong Headpond.
The Chief Executive of VRA, Kweku Awotwe, said the Environmental Management Plan would identify the total impact of the construction of the two dams both upstream and downstream and outline the measures to be undertaken to mitigate them.    
"The plan would basically be the instrument that will detail the measures to be taken by VRA in collaboration with our partners in order to eliminate, offset or reduce adverse impacts," he stated at a workshop in Accra yesterday.
The preparation of the plan forms part of consulting services being provided by the Association of Royal Haskoning of Netherlands and Norplan of Norway who are undertaking the evaluation and assessment of the safety of the Akosombo and Kpong Generation Stations.
About two weeks ago, the authority held similar workshop with other stakeholders in Accra on the preparation of an Emergency Preparedness Plan for the two dams.
According to Mr Awotwe, the Emergency Preparedness Plan would form part of the Environmental Management Plan.
By Felix Dela Klutse