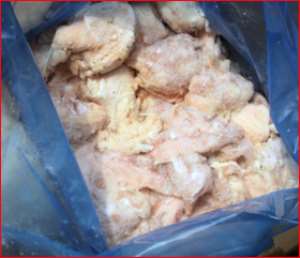 The Food and Drugs Board (FDB) has observed with serious concern the proliferation of turkey tails on the local market in flagrant violation of existing regulations.
The FDB has strongly advised the consuming public to desist from patronizing turkey tails and give information on any person known to be involved in the illegal importation of the said commodity.
Meanwhile, FDB in conjunction with the National Security, Veterinary Services Directorate and the Custom Excise and Preventive Service (CEPS) would intensify inspections of all frozen food consignments so as to curtail the filtering of turkey tails onto the market.  
"Also, frequent and thorough inspections of all primary cold storage facilities are ongoing to mop up any consignment that may have already entered the market," a statement issued by FDB and signed by the Chief Executive, Dr. Stephen K. Opuni.
The statement cautioned importers of poultry products that turkey tails imported into the country would be seized and destroyed.
FDB assured the general public that it was doing all in its power to ensure public health and safety.
In 1999, the Ministry of Trade and Industry issued a communiqué to all importers to the effect that poultry products with total fat content exceeding 15 percent was prohibited in the country.
Consequently, the Ministry of Food and Agriculture also stopped the issuance of permits for the importation of turkey tails into Ghana.
However, turkey tails are still found on the Ghanaian market. It is therefore clear that these products are smuggled into the country through unapproved routes or through misleading declaration of product contents at the approved points of entry.
It is worth noting that the fat from turkey tail is likely to have a good proportion of saturated fats which are associated with high cholesterol level and as such causes many diseases including heart diseases.
Excess cholesterol in the body is known to accumulate in the walls of the blood vessels. Over time, this can cause the arteries to become narrow, eventually blocking the flow of blood to the heart and brain, leading to either a heart attack or a stroke.
Scientific research also indicates that diets that are high in saturated fats can increase the risk of lung, colon, breast, uterine and prostate cancers.
On February 8 this year, FDB in conjunction with National Security and CEPS detained a container of frozen chicken at Kaneshie because it contained 1,970 cartons of turkey tails.
Again, on February 9, 2010 the authorities impounded a container that contained 2,095 cartons of turkey tails concealed among 692 cartons of chicken backs.
From Business Desk