President Mills: No Regrets For Investors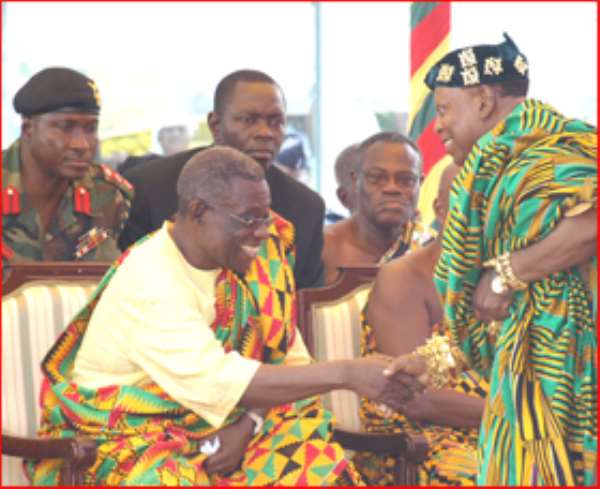 President John Atta Mills in a handshake
President John Evans Atta Mills has assured local and international investors that they would be protected in Ghana.
"I want to assure investors that they will have no regrets in Ghana. We want them to invest in agriculture.
We do not only need them for food security but to create sustainable jobs for Ghanaians," President Mills told participants at the 7th Africa Investment Forum on Tuesday in Accra, which was organised by the Ghana Investments Promotion Council (GIPC), in collaboration with the Commonwealth Business Council (CBC) at the International Conference Centre.
It is themed: "Accelerating Intra African Trade and Investment."
He indicated that his administration is bent on ensuring a reliable judiciary process, requisite labour laws, reasonable cost of doing business, absence of corruption, proper markets and above all political stability in the country.
President Mills noted that he was prepared to pursue these policies in collaboration with other leaders in the sub-region so "Africa could rise up to promote  economic development."
He therefore urged participants and prospective business partners to treat one another with the best of faith and honour.
"Now is the time to help lift up our people from economic quagmire. Africa must look out for policies and regulations that will assist her to take advantage of opportunities in other parts of the world. And this must start with intra-African trade," he said.
The President of Namibia, Hifikepunye Pohamba, in an earlier address, mentioned that there was the urgent need for African countries to focus on adding value to their local products to promote trade.
"Africa is in dire need of investments in the agriculture, manufacturing, infrastructure and energy sectors. The political independence of Africa would be meaningless if it is not accompanied by economic independence," he stressed.
President Pohamba stated that exports from Africa to Asia had increased by 50 percent since "Asia is increasingly becoming a trading partner of Africa." 
He called for the redoubling of efforts to achieve economic integration and the removal of intra-state transportation obstacles and cumbersome customs regulations.
Ishmael Yamson, who co-chaired the forum, in a welcome speech, said the global financial crisis, which started from the West, had disrupted capital inflows, explaining that there was still a leeway for African countries to redeem themselves from the shackles.
According to him, the current price of oil, which hovers around $70, was still high. "Africa must define its developmental agenda.
Intra-African trade is only 6 percent because most the countries do not look for trading partners and are paying for the consequences of fragmentations.
"Africa should not be shy to exploit opportunities offered by China and India, but our leaders must accept the challenge to grow," Mr. Yamson reiterated.
President Faure Gnassingbe of Togo also graced the occasion with a powerful business delegation, including Dr Mohan Kaul, Director General of CBC and Dr Pascal Dozie, Chairman of MTN Nigeria.
By Samuel Boadi