Government Promotes ICT Entrepreneurship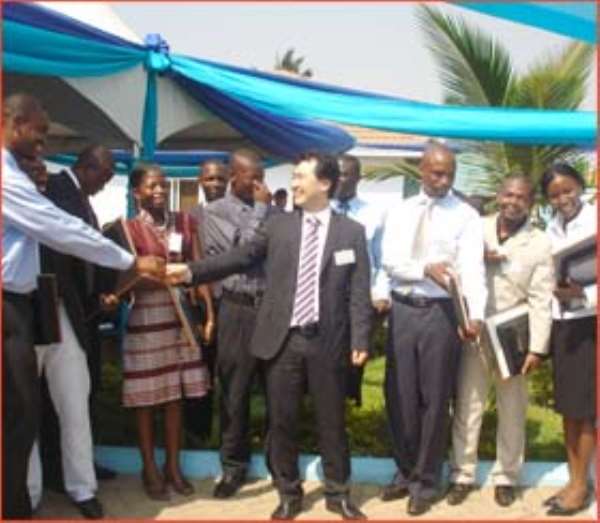 Information Communication Technology (ICT) has become an essential tool for the economic growth and advancement of many countries.
As a result, Government has established the Ghana Multimedia Incubator Centre (GMIC) to promote ICT development in the country.
GMIC is aimed at promoting ICT Entrepreneurship development through the development of ICT businesses, start-ups and the much-needed ICT skills under the government's ICT for Accelerated Development (ICT4AD) initiative.
The Deputy Minister of Communication, Gideon Quarcoo said, "With support from the United Nations Development Program (UNDP), Government, Ministry of Communications and the Centre aids have initiated ground breaking and innovative ICT ideas to develop viable business ventures."
He added that GMIC currently houses 13 tenant-companies that are undertaking various innovations and technology solutions such as educational software development, vehicle tracking systems, web-based recruitment and advertising, intelligent systems, campus automation and other software application systems.
He said the centre provides the tenant companies with office space, utilities, internet access and shared resource centre, which gives them access to various secretarial services.
Mr. Quarcoo was speaking at the first graduation ceremony of the Meltwater Entrepreneurial School of Technology (MEST) in Accra.
He explained that tenant companies would undergo a comprehensive mentoring process and capacity-building from experienced consultants in diverse fields such as project management, marketing, business plan development, proposal writing and negotiation skills.
"After a sustained monitoring and evaluation of performance, successful businesses will 'graduate' from the Incubator after a stipulated period and enter the real world of business," he added
MEST has a three-phase entrepreneurial training program where young graduates from Ghana are trained to become African software entrepreneurs.
It is the first software development training program with a focus on entrepreneurship in Ghana.
Meltwater Group, which is made up of software companies, was founded in Norway in 2001.
The Chief Executive Officer of Meltwater Group, Jorn Lyseggen set up MEST in Ghana in 2007, with the aim of nurturing, training and mentoring young Ghanaians and Africans to become future software entrepreneurs in the global market space.
In an interview with CITY & BUSINESS GUIDE, Emil Noamesi, who is also a graduate, said his experience with MESST had been phenomenon, noting that "the entrepreneurial training, extensive hands-on project work and mastery of proven methodologies for software development had really benefited them."
He said renowned guest lectures, recognized executives, professors and entrepreneurs who had made it in the ICT world were always available to teach and share their experiences and insights with them.
In all, 11 students graduated with certificates in Software Entrepreneurship.
By Esther Awuah