Instability in Cote d'Ivoire affects flights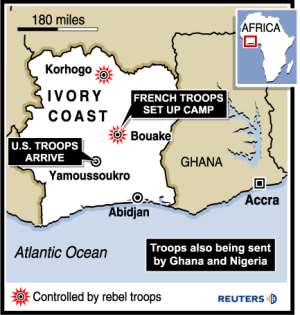 The unstable political situation in Cote d'Ivoire has affected flight operations to that country from Ghana.
Airlines operating along the West Coast of Africa have had to adjust their flight schedules to fall within the curfew currently prevailing in that country while passengers in transit have also reduced.
Ghana Airways, South Africa Airways and Air Ivoire all plying the West Coast have suffered as a result of the political instability in that country.
According to an official of Ghana Airways, their daily flights, except on Mondays to Abidjan continue uninterrupted except that the flights times have changed.
He said they have also experienced a reduced passenger flight connections put over the period.
According to the official, Ghana Airways flight on Monday, September 23 from Monrovia with 107 passengers had to fly over Abidjan because of the curfew, adding that the following day's flight carried only 32 passengers and that has not improved.
An official of South African Airlines said they have also experienced a reduced passenger flight and adjusted their flight schedule to conform to the Ivorian curfew regulations.