Voice from Afar: We Can Do It ; We Should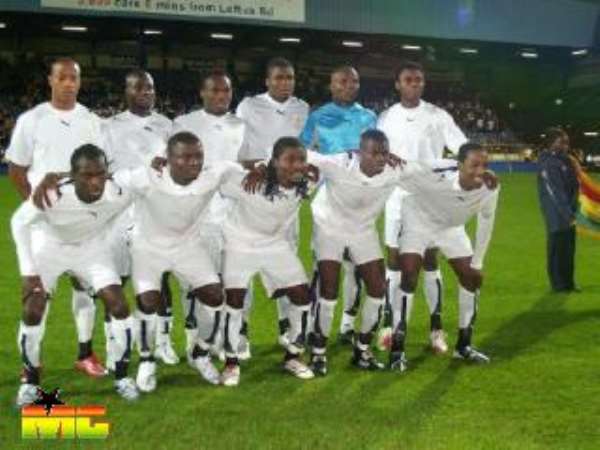 The government gave each member of the team $20,000
The young Black Stars have shown that we can do it. We are not beholden to Ghanaians without pride who have grown too big in their foreign boots.
With commitment, competence, self-confidence, unselfishness, team-work, and above all discipline, we can succeed. The lesson of the stars applies to all fields. We have to work like adults with a common national purpose to succeed.
I expected the Black Stars to win and confound the critics who did not give them a chance and to show that the human spirit can overcome great odds.
I normally do not watch such matches in which I am keenly interested. I read in bed and turn the TV on when I hear the loud noise across the road. I thought the match was going on into extra time and I was convinced we had a great chance to win. The Egyptians appeared tired and our young lads were full of vim. And so I turned the TV on about five minutes before full time. I was sad. A little lack of concentration and the Egyptians scored. We had a wonderful chance a minute before full time and we missed it.
The lesson is clear. We must persevere to the end. We should not let off until the task is fully accomplished. Still the stars did well and they made us proud and made it clear we could do it. They and the technical team especially the coach deserve congratulations.
The stars are rightly rewarded. But I wish we could have given them something more lasting like national honours. But we have in many ways cheapened national honours. Besides, today, we measure practically everything in terms of money. Even a TV programme which could be termed, "Brain of Ghana" competition goes by the name "who wants to be rich".
The money award to the stars raises interesting questions. Is it sufficient or excessive? For people like Michael Essien it is peanuts. By English premier league standards it is a token. But for Ghanaians and especially the young players it is a lot of money.
The question of remuneration in Ghana, a poor country in the global affluent village is a major one which has to be solved realistically to help us escape from poverty.
We have been dealing with it stealthily by for example allowing special payments outside the system. This has not helped commitment.
The exploits of the Black Stars united the country. Besides, they fanned patriotic fervour. If all this is good for stability and progress and we have to pay for it so be it. And why not also pay salt winners more to increase production for the oil industry and exports and thereby accelerate economic growth which will eventually benefit all? Salary and wages determination should break conventional notions if we are to escape from the status quo of poverty.
Salary policy is more than paying people not to leave the country or to come back. The real work has to be done by those who are in and understand and feel the issues and problems. And even this understanding is not enough. The people should realise that only they can improve their future and they should be helped by good leadership to develop those qualities which served the Black Stars so well.
An important one of these qualities is discipline. Those who could not submit to the discipline of the sports were rightly excluded. We should likewise not tolerate those in high places who are not disciplined.
TV3 carried a news item about "Ghana Man Time" (GMT) recently. At the root of it is indiscipline. Often there are many reasons why one could not keep appointments on time or not to turn up at all. Ministers and other dignitaries accept appointments and then at the last moment send someone to read speeches for them.
I made it clear sometime ago that I could find an interesting and appropriate passage from the Bible or Shakespeare's writings to interest the audience and no speech could be read for the guest speaker. The one concerned turned up.
Surely those in authority should be disciplined enough to honour their engagements. In today's world, decisions are made by meetings — preparation for attending them, taking decisions and implementing them.
I was surprised when TV showed parliament empty long after the scheduled time for meeting. Perhaps that was why there was a problem recently with the Minister of Finance. He might have sent the Deputy Minister because he knew parliament did not take time seriously enough for him to fit in other important engagements.
Surely parliament is more important than a Millennium Account meeting. The millennium meeting could be postponed to a time after the answering of parliamentary questions. But if one was not sure when parliament would meet, one might as well send someone else to deal with them.
Lack of discipline not only impedes development. It makes us look third rate and childish. Very soon even functionaries would not attend to summons by their superiors because one could wait for hours to see them even when he or she had summoned the official.
Ghana is over 50 years old. Even at birth we did not behave irresponsibly. So let us put away childish things and we can do exceedingly well as the Black Stars have done.
Credit: K.b. Asante /Daily Graphic