Armed robber jailed 100 years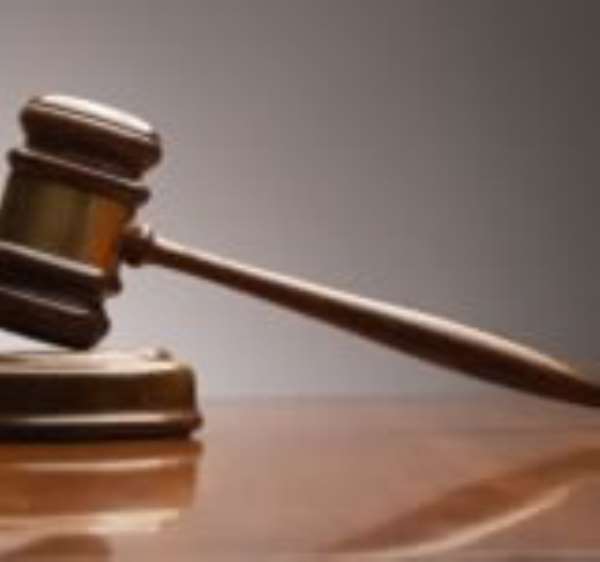 A 20-year-old armed robber who killed a pregnant woman and critically injured her husband in an attack in May last year is to spend the next 100 years in jail.
The robber, Muhammad Musah, aka Red Bone, was arrested in August last year and he pleaded not guilty to charges of conspiracy to rob and robbing at gunpoint.
However, the court, presided over by Mr Amo Yartey, found him guilty of the charges and sentenced him to serve 1,200 months in jail.
In convicting the robber, Mr Yartey said he took into account the death of the woman, who was six months pregnant, and the injuries sustained by her husband, saying; "People like you are not fit to mingle with law-abiding citizens."
According to the police, Musah is also facing trial in various courts in the Kumasi metropolis for similar offences.
Prosecuting, State Attorney, Mr Emmanuel Lawrence Otoo-Boison, told the court that around 1a.m. on May 20, 2009, Musah, who was unemployed, together with his two accomplices now at large, armed themselves with' a pump action gun and started attacking victims at Duase New Site in Kumasi and robbed them of various items, including five single;barrel1ed guns and 20 live cartridges which volunteers in the new site used for patrols in the community.
He said in the course of the attack, the gang shot and wounded one Tenkorang in his left leg.
Mr Boison said around 2:30 a.m. that day, the convict and his two accomplices attacked Mr Joseph Kofi Oppong; a taxi driver resident in the same vicinity, and his wife, Ataa Achiamaa, now deceased.
He said the distance between the area where the robbers shot and wounded Tenkorang and where Mr Oppong and his wife stayed was about 1,000 metres.
Explaining further, Mr Otoo-Boison said in the¬ course of the, attack, Musah and his accomplices,forcibly took away GH¢ 120 from his victims, but not
satisfied with their booty, they shot and wounded Mr Oppong in the right hand, causing him to bleed profusely, and also shot his wife, who was six months pregnant, killing her in the process, before taking to their heels.
He said the police started investigations as soon as the case was reported to them and succeeded in arresting Musah at his hideout three months later.
He said the convict was identified by his victims at two separate identification parades as one of the robbers who had attacked them at gunpoint.