UN HUMANITARIAN RESPONSE DEPOT IN ACCRA SENDS RELIEF ITEMS TO HAITI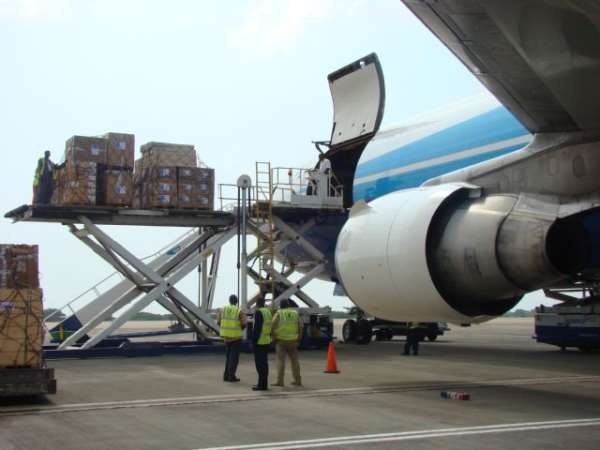 HRD Accra Airlift to Haiti
Accra – The United Nations World Food Programme (WFP) said today its UN Humanitarian Response Depot (UNHRD) in Ghana has transported 150 metric tons of urgently needed relief items to victims of the Haiti earthquake.
"This is the first time the Accra depot has airlifted items to a country outside Africa since it began operations in 2007. To date, we've responded to emergencies in 17 African countries including Ghana. We're happy to help Haiti at a critical time like this," said Ismail Omer, WFP Representative in Ghana.
Two airlifts were involved. The first aircraft carried prefabricated structures for office/living accommodation and mobile warehousing, at the request of the UN Development Programme office in Haiti.
The second aircraft transported water tanks, jerry cans, blankets, mosquito nets and kitchen sets, at the request of Irish Aid, the Irish Government's development assistance programme. The UNHRD in Accra has also dispatched two of its Ghanaian staff members to help with the erection of prefabricated units and warehouse management in Haiti.
"UNHRD Accra was called upon to assist the Haiti disaster victims after other depots in Panama and Brindisi ran out of stocks," said Martin Walsh, the depot manager.
The Accra depot is part of WFP's global network of five depots, able to deliver humanitarian relief items worldwide within 24 to 48 hours. It is strategically located to speed up emergency response to humanitarian disasters in parts of Africa. It provides storage, logistics support and services to the broader humanitarian community including UN agencies, international humanitarian relief organizations, and governmental and non-governmental organizations, reducing both the response time and the costs for organizations using the facility.